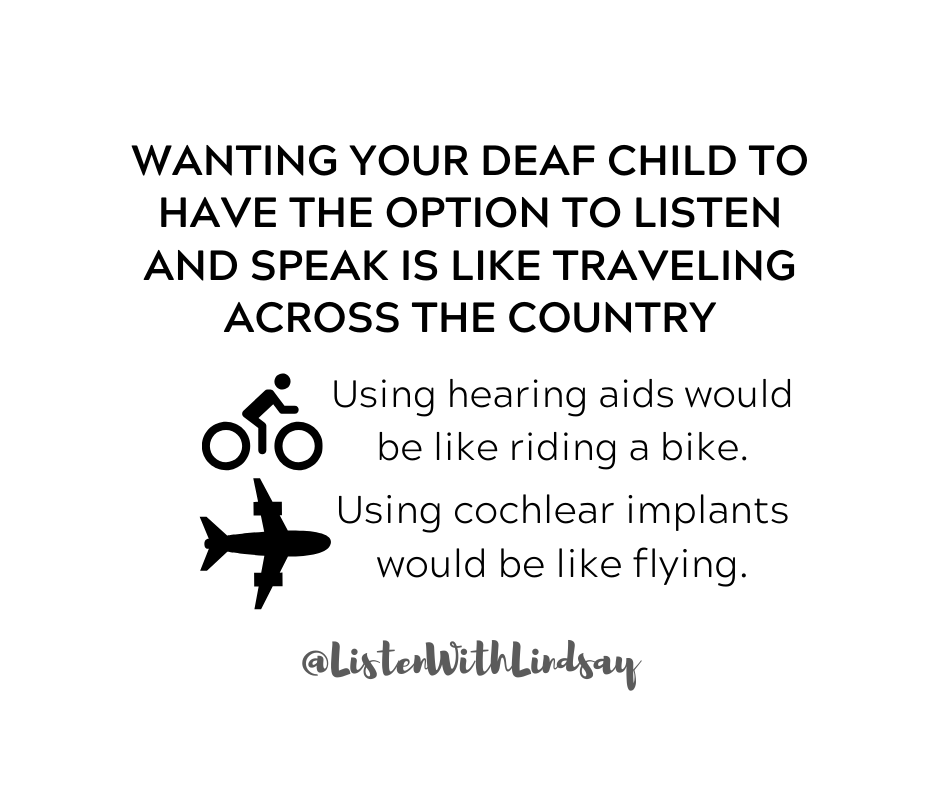 What's the difference between hearing aids and cochlear implants? An Analogy
I recently posted on my Instagram @ListenWithLindsay about how the latest research is showing us that kids that receive cochlear implants before 1 year old have much better language outcomes. Someone responded saying that they would not put their baby through this because cochlear implants are a luxury. They said to just do hearing aids because they're much less invasive and reversible.
I know no parent takes the decision of getting their child a cochlear implant lightly. It is a difficult choice that only people of privilege get the luxury of making. The thing is that hearing aids will not give you the same outcomes as a cochlear implant if your child has a severe to profound hearing loss. Let me explain.
First I want to preface by saying that no child (hearing or deaf) is guaranteed to talk. Especially as an infant we have 0 way to know for sure if they will talk or not.
Cochlear Implants are Tools
Cochlear implants are tools that (along with a lot of hard work) can make communicating with listening and spoken language a possibiity for kids born with severe to profound hearing loss. It makes listening and speaking an option, not a guarantee.
Using only hearing aids would be like using a bike to cross the country. An extreme amount of effort, significantly more difficult, and takes way longer. Maybe you'd get there or part way there, but it wouldn't be easy. A small amount of people who are incredibly focused and driven will eventually do it, but at a big cost (mentally, emotionally, socially, etc.)
Getting a cochlear implant would be like taking an airplane. Not easy, still takes time, effort and planning. It's currently the tool that makes the most sense time, effort, and cost-wise for most people.
Lots of people fly because the cost/benefit ratio makes sense to them. There's some people who refuse to fly because of fear. It's not the right option for everyone, but in 2020 when you want to get across the country you probably aren't hopping on a bike if you have the option of flying.
Flying can still have turbulence. There can be mechanical problems. You might have an emergency landing or be re-routed. You can have a long layover and wonder if you'll ever make it to your destination. There can be frustrations and set backs and things don't always end up like you expect. But most of the time, flying works pretty well and is worth the effort.
Getting a Cochlear Implant before 12 Months
Getting implanted before 12 months *might* be like flying in a private plane. A smoother trip, faster and easier, still some work but less effort than flying commercial. Gives you a less stressful trip and more time to enjoy your destination.
Flying private is not as common and can feel a little riskier. It's only available to people with money and resources. Some people are not comfortable flying on a private plane and prefer a larger commercial flight because it makes them feel safer.
Flying private can relieve you of some of the hassles of flying commercial. When your child gets implanted early and things go well and your child catches up with their typically hearing peers faster it could *potentially* relieve you of some of the extra work rehabilitation could require.
This *could* mean graduating from speech therapy or auditory verbal therapy and missing less academic time at school, or less IEP meetings with your child's education and therapy team which can last for hours, require a parent to take time off of work, and sometimes require hiring an advocate or lawsuits.
And those things can mean:
Having the option and flexibility to go back to work or work full time.
Being able to live where you want and not have to choose based on what the local school district can offer your child.
Less time spent driving to and from therapies and appointments.
More time doing things with your family that you all enjoy.
Delaying Cochlear Implant Surgery or Full-Time Device Use
When parents delay the cochlear implant surgery, take a long time working up to wearing the CIs all day everyday, or have inconsistent hearing aid use it's like taking a last minute flight. The longer you wait the higher the cost and the more difficult the trip will be. Now it's going to be 17 connecting flights before you get there. Cochlear implant teams and audiologists always counsel about realistic expectations, but it's hard to truly understand just how hard the trip is going to be until it's 3am and you're sleeping on the floor at the Detroit airport waiting to fly standby for an overbooked flight. That's when people can start saying "No one told me the trip was going to be like this! Obviously this flying thing does not work." You can still get there eventually if you persevere, but it's not without it's challenges.
I'm never going to force someone onto a plane. Parents have to make that decision on their own. No one needs to travel across the country, but some people want to and that's ok.
[For families interested in listening and spoken language] I share information about the importance of full time hearing aid/cochlear implant use, early implantation, and the benefits of remote microphone technology because I want you to ultimately have more FREEDOM and more time to do things with your family that you all enjoy!
Check out my episode on the All About Audiology Podcast about "Do cochlear implants work?" It's almost an hour of us discussing the pros, cons, benefits, and limitations of cochlear implants.