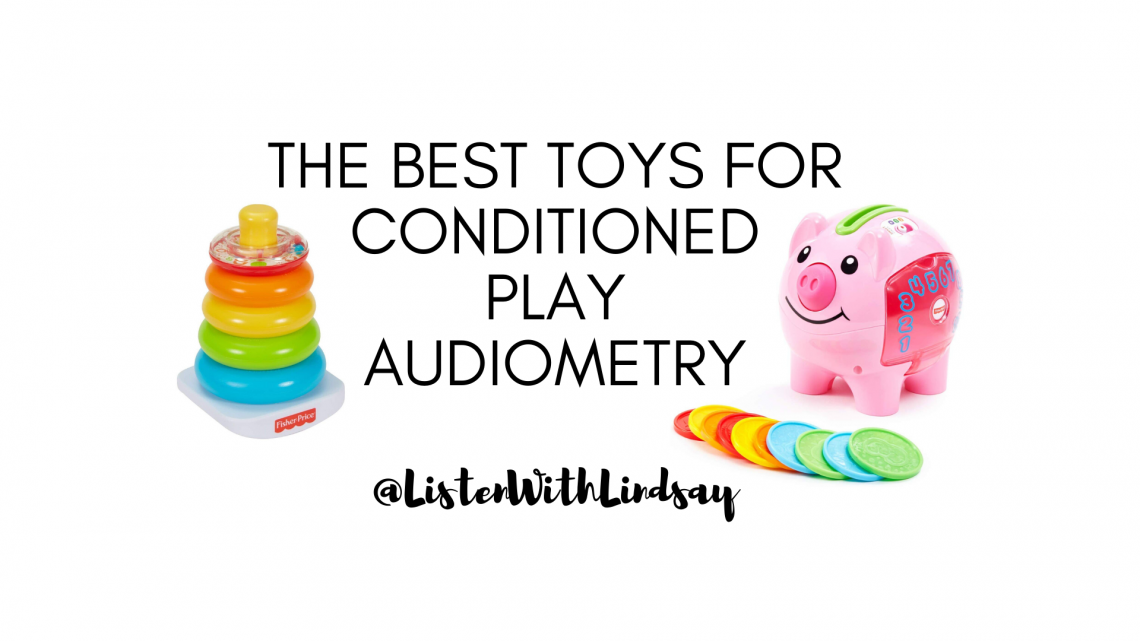 The Best Toys for Conditioned Play Audiometry
When children are about 2.5-5 years old they begin to transition from doing Visual Reinforcement Audiometry to Conditioned Play Audiometry for hearing tests. In order to complete conditioned play audiometry typically a toy is used to help the child establish a conditioned response and to make it fun. In this post I will share some of my most favorite toys I use for conditioned play audiometry.
Conditioned Play Audiometry Toys and Games for Hearing Tests and Conditioned Responses
Disclaimer: Some of these links are affiliate links which means I make a small commission if you click on the link and then make the purchase. This does not cost you any extra, but does help me with the costs of running Listen With Lindsay.
Here are some of my top toy recommendations from simplest to most challenging. They're all used for the same purpose- a child must wait until they hear a sound and then put the thing in/on the other thing (put the ring on the post, put the money in the piggy bank, put the peg in the board, put the connect 4 piece in the connect 4 board), etc.
As audiologists we see a variety of children with different strengths and abilities. Kids need to be interested, but not too interested. They must be challenged, but not too challenged. Having a variety of games helps meet the needs of different children.
It's also incredibly important to have multiple games in order to get the child to stay engaged. If you're bored then they have been bored and it's time to switch it up!
Stacking Rings
Simple, yet effective. Great for younger children or those that have motor delays. These are so classic that even older kids are drawn to it. It's also easy to clean and doesn't have a bunch of pieces that can get lost. They're also great for Visual Reinforcement Audiometry with a baby that keeps trying to pull insert earphones out. I put one ring in each hand and it works great as a distractor!
Buy Fisher-Price Brilliant Basics Rock-a-Stack
Piggy Bank
Hot tips: don't put batteries in it, let the child explore the pig and see how the door opens and closes before starting, and give them a second to inspect the coins (they have an animal on one side and an amount on the other) before playing the sound. This will get the temptation out of the way so they'll be able to focus on the task better.
Buy Fisher-Price Laugh & Learn Smart Stages Piggy Bank
Peg Board
These are used often in therapy so sometimes kids are already familiar.
Buy Lauri Tall-Stackers – Pegs and Pegboard Set
A variation of the peg board is this cute little hedgehog with peg spikes. It comes with 12 quills so you won't be able to play this one for too many responses, but it's great to mix it up.
Buy Learning Resources Spike The Fine Motor Hedgehog
Connect 4 Game
This classic game is great for older kids who need something a little more interesting. It takes better motor skills to get in than the bigger toys and sometimes kids like to make patterns or alternate colors which is more engaging. I don't typically play the actual game with kids (i.e. alternate turns) I just have them put it in when they hear the sound.
Puzzles
I recommend puzzles with at least 8 pieces and chunky pieces vs. traditional jig-saw puzzles. I like both foam and wood puzzles.
I love a foam puzzle because it's easy to keep the pieces all together. I'd recommend only taking the pieces out 1 row at a time and then giving them to the child in order. If you let them pick a random letter sometimes it's hard to tell if they didn't hear the sound or they're still trying to figure out where the puzzle piece goes.
Buy Greenbrier Alphabet and Numbers Foam Sponge Puzzles Playmats Upper Lower Case, 3-ct Set
Shapes Puzzles
A shapes puzzle like this is going to work better than a jigsaw puzzle. I take all of the pieces out, hand the child the first piece, then point to where it goes and tell them to listen. You can find these puzzles with farm animals, safari animals, vehicles, shapes, etc. and get a variety to cycle through. The Melissa & Doug toys are super well made and high quality and will last you the longest. They also have a puzzle wire storage rack that can be super helpful.
Buy Melissa & Doug Vehicles Wooden Peg Puzzle
Tips for Storage of Conditioned Play Audiometry Toys
I recommend storing these toys in a neutral opaque container. If they are in a clear plastic tub then the temptation to open it and look at what else is inside is going to be VERY high.
A storage ottoman like this could be both hidden storage for conditioned play audiometry games and double as the table that you use to play the games.
What are your favorite toys for conditioned play audiometry?