6/27/21 Additions to DHH Book List
The list of Books About Hearing Loss for Kids and Adults has been updated! You can Shop my Amazon Storefront to see more DHH books! Here are the latest additions:
Disclaimer: Some of these links are affiliate links which means I make a small commission if you click on the link and then make the purchase. This does not cost you any extra but does help me with the costs of running Listen With Lindsay. *Gifted by the publisher.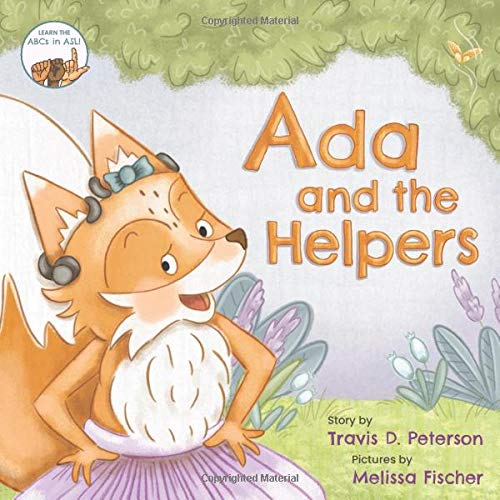 Ada is a dancing, deaf fox with cochlear implants who loves to help others. On her way to dance in a talent show one day, she meets three other creatures who are each facing a physical challenge or disability of their own. She decides to help each of her new friends to see past their challenges and discover their natural, God-given strengths. But can they help her in return? Ada's a bit nervous about the talent show!
Will she be able to hear the music clearly? Will everyone laugh at her? Pick up a copy of Ada and the Helpers today and follow Ada and her new friends on an exciting new adventure that inspires friendship, helping others, inclusion, and finding your strengths. Plus, your child can learn the ASL alphabet at the same time! The rhyming nature of the story is welcoming for hearing kids, but is especially helpful for young children who are hard-of-hearing.
Athena, a little girl who was born with a hearing loss, has a daily routine that she follows every single day including putting in her hearing aids! Her routine changes slightly, however, when she takes a trip with her parents to the marina. Athena's amplified hearing introduces her to a few fun water friends, turning the trip into a magical sound adventure. Athena Visits the Marina allows readers the opportunity to discover alongside Athena the amazing things that can happen in unexpected places. (Plus, you'll get to learn the meaning of some cool words, too!) Are you ready to visit the marina with Athena? Check out a flip-thru of this book on my Instagram.
Did your child just get hearing aids? Is your child feeling self-conscience about their hearing loss? "Bessie Needs Hearing Aids" is a children's book that will help children with hearing loss understand the process, and that they are not alone. Written and illustrated by a teenage girl who went through this process, so it will resonate with children just learning of hearing issues, or coping with wearing hearing aids. The book received numerous accolades so it was decided to make it available to all, in order to possibly help other children with hearing loss. When a child goes through the process of getting hearing aids, it is scary for them and difficult for a parent to explain. This is a story of Bessie the bunny, who was so excited to start school only to have the kids get frustrated when she was not hearing them properly. Bessie visits the audiologist and learns about hearing aids and how they can help with her hearing loss.
Is Little Bear ignoring his friends when they say hi, or is something else going on? A discovery opens new doors in a tale that will delight kids with deafness and all children learning to navigate their world.
Little Bear feels the world around him. He feels his bed rumble when Dad Bear wakes him up in the morning. He feels the floor shake when his teacher stomps to get his attention. But something else is missing, like when his friends tell jokes that he isn't sure he understands, or when all around him Little Bear hears the question, "Can bears ski?" Then, one day, Dad Bear takes him to see an "aud-i-olo-gist," and Little Bear learns that he has been experiencing deafness and will start wearing hearing aids. Soon he figures out what that puzzling refrain is: "Can you hear me?" Little Bear's new world is LOUD and will take some getting used to, but with the love and support of Dad Bear, he will find his way. In this lyrical picture book, award-winning creators Raymond Antrobus and Polly Dunbar draw on their own experiences to tell Bear's story.
Rian is starting her sixth-grade year in a new home and at a new school in Northeast Philadelphia. On her first day, she is greeted by Shack, the class bully, who wastes no time breaking one of her cochlear implants. She's used to feeling like an outsider, but nothing could prepare her for life at John Hancock Elementary. Her teachers can't pronounce her name, the "normal" kids think she's Deaf and the Deaf kids think she's a joke. deaf not Deaf is a story about an unlikely friendship between Rian and Luis, two twelve-year-old sixth-graders who break down communication barriers and learn to understand deafness in very different ways. Linked by their common enemy, Rian, Luis and their group of misfit friends hatch a plan to get revenge on Shack once and for all…but will their ghoulish plan be an epic success or come back to haunt them in the end?
Duke the Deaf Dog learns that some noises are loud and some are quiet. Whether it's a tapping crayon, a beeping fire drill, or a crinkly candy wrapper, both parents and children alike will understand the need to know the difference between noises. A fun, engaging way to teach children that some noises are not polite. Bonus American Sign Language material included with every purchase: Learn 12 ASL signs within the story. Learn Rules of Etiquette in Deaf Communities. Watch the Deaf Culture lesson, vocabulary words, and the complete story signed on video using the link provided in the book. Watch a deaf parent sign the Farts Make Noise story on video using the link provided in the book.
Larger-than-life Ling Ling Bird forms an unlikely bond with tiny wee Chickadee in this uplifting tale of discovery, friendship and acceptance. While Chickadee gains a fascinating insight into the world of her dazzling new buddy who is deaf, Ling Ling Bird learns that being different does not prevent him forming special friendships. Amazing things are possible with a can-do attitude!
This 30-page picture book with full color illustrations throughout, is written for older children and early readers (6-8 years). In the author's personal experience, this is the age when deaf children and their school friends really start to show an interest in the workings of their cochlear implants / hearing aids. The story encourages deaf children to aim for the stars, while acknowledging the hard work it takes to learn to listen and speak. The book uses ambitious language, which makes it ideal for family reading and for younger listeners to learn some of the terminology associated with hearing loss and hearing technology.
Answering many questions about life with cochlear implants ('magic ears'), highlighting both challenges and opportunities, this inspiring book will help friends, families and teachers of deaf children to better support and understand their tough but rewarding journey into the hearing, speaking world. By championing such a fun character with hearing loss like Ling Ling Bird, who is undeterred by his disability, it is hoped this delightful tale will help deaf children around the world to build their self-esteem, pride in who they are and a strong sense of personal identity.
Mickey is a 6th grader with hearing loss at a new school. His mom gets a call that he's been eating lunch in the library. It turns out the cafeteria is too noisy and he can't hear his friends. They do some brainstorming and decide to sit Mickey and his friends in a quieter spot and give them special permission to go to the library to chat once they're done eating. Hit pause to read the pages 😊 This book was gifted to me by the publisher.
I'm sure Mickey's mom is an amazing person and she wrote this very sweet book which talks about an important subject- listening in background noise when you have hearing loss. This is one of the strangest books about a kid with hearing loss I've ever seen though because of the illustrations- he does not appear to be wearing his cochlear implant in a single picture. They talk about his CI, but you can't see it! If you write a book for kids about hearing loss and hearing devices, then showing the kid wearing the HA or CI is one of the most important parts!! Kids that wear CIs almost never see themselves in media (books, tv, movies) and books like this are the one chance they can see a kid like them. I'm sure the AVTs and SLPs out there can agree that this book is missing a critical element that could make it GREAT for this age group.
Deaf author Ann Clare LeZotte weaves a riveting Own Voices story inspired by the true history of a thriving deaf community on Martha's Vineyard in the early 19th century. This piercing exploration of ableism, racism, and colonialism answers the call to dig deep, examine core beliefs, and question what is considered normal.
Mary Lambert has always felt safe and protected on her beloved island of Martha's Vineyard. Her great-great-grandfather was an early English settler and the first deaf islander. Now, over a hundred years later, many people there — including Mary — are deaf, and nearly everyone can communicate in sign language. Mary has never felt isolated. She is proud of her lineage.
But recent events have delivered winds of change. Mary's brother died, leaving her family shattered. Tensions over land disputes are mounting between English settlers and the Wampanoag people. And a cunning young scientist has arrived, hoping to discover the origin of the island's prevalent deafness. His maniacal drive to find answers soon renders Mary a "live specimen" in a cruel experiment. Her struggle to save herself is at the core of this penetrating and poignant novel that probes our perceptions of ability and disability.