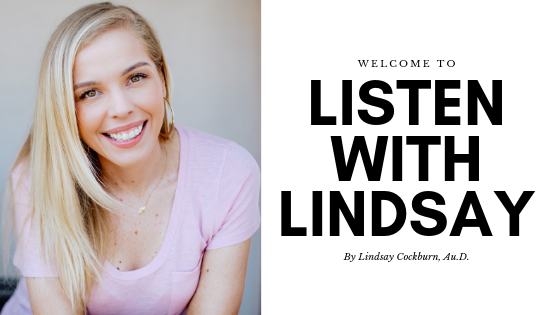 Welcome to Listen With Lindsay
Hi! My name is Lindsay Cockburn and I'm a pediatric audiologist in Los Angeles, CA. I'm passionate about family-centered, feelings focused care that is easy, accessible, and made with the modern day parent in mind.
Disclaimer: All information posted is solely my own thoughts and opinions. I do not speak on behalf of my employers, educational institutions, or professional organizations past, present, or future. The information provided is intended for general knowledge and is not a substitute for professional audiological and/or medical advice. Audiological care can be very individualized so it's important to discuss any problems, concerns, or questions you have with your provider.
Who is Listen With Lindsay for?
I've created Listen With Lindsay to be a resource for parents, loved ones, professionals, and students working with and caring for children with hearing loss.
I'm Your (Internet) Audiologist Friend
My goal is to share information in a way that it feels like it is from a friend or peer vs. a Professional Expert That Has All the Answers. Know what I mean?
Listen With Lindsay vs. Listen TO Lindsay
I'd ultimately love to create a community. I named this website "Listen With Lindsay" because I love collaboration. I know I don't have all the answers and part of the fun is learning new things, evolving, and growing.
I think if we all work together and listen to each other we could solve some of the current challenges in pediatric audiology- insurance roadblocks, delays in care and services that are supposedly urgent, and helping more audiologists become better listeners to parents!
Want to help?
Be sure to follow me on Instagram @listenwithlindsay and subscribe to the Hearing Happy Hour Newsletter so you don't miss any of the fun!