Books with Black Deaf and Hard of Hearing Characters and Authors
It's Black History Month! I thought I would highlight some books that feature black deaf and hard of hearing characters, books about hearing loss with black characters, and books written about hearing loss by black authors!
Disclaimer: Some of these links are affiliate links which means I make a small commission if you click on the link and then make the purchase. This does not cost you any extra but does help me with the costs of running Listen With Lindsay.
Books for Kids
Books with Black Deaf and Hard of Hearing Characters that Discuss Hearing Loss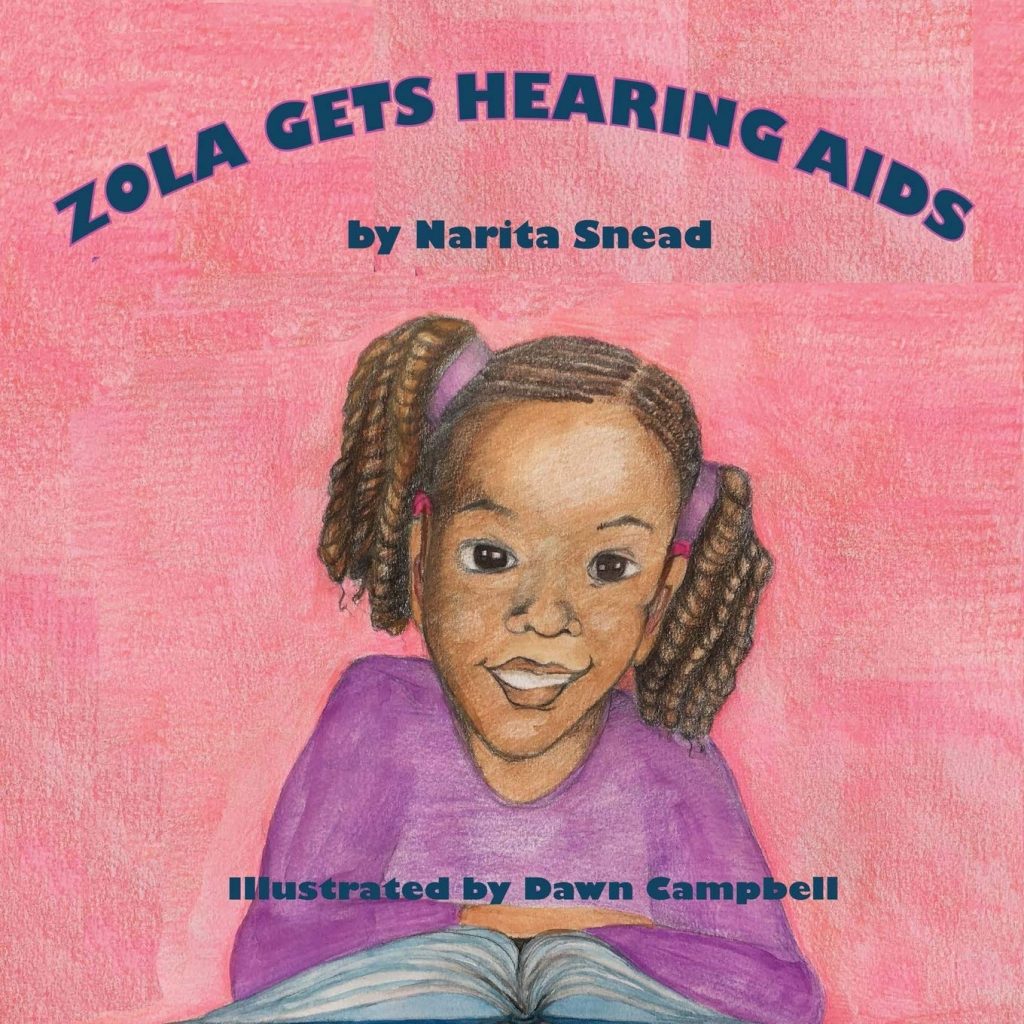 "Zola has a problem. She does not hear as well as other kids. Today is the day she goes to the doctor, a special doctor, to check her hearing. Zola is worried because she has heard all about those kids who do not hear well. Her greatest fear is having to wear a hearing aid. She is worried about how her friends will react if she has to get a hearing aid and wear it to school. Will they tease her? Will she be bullied or will they accept her and still be her friend? Not sure about what the day will bring, with great sadness and frustration, she pushes back her blanket and gets out of the bed to go to the doctor's office.
"Zola Gets Hearing Aids" was written by an author who has lived with hearing loss her entire life. Driven to help little girls and boys all over the world feel included and accepted, Narita Snead has stepped out of the shadows to be a voice to those who are often ignored."
See a book flip-thru of Zola Gets Hearing Aids here and be sure to check out Narita Snead's most recent book Zola's Teachable Moment.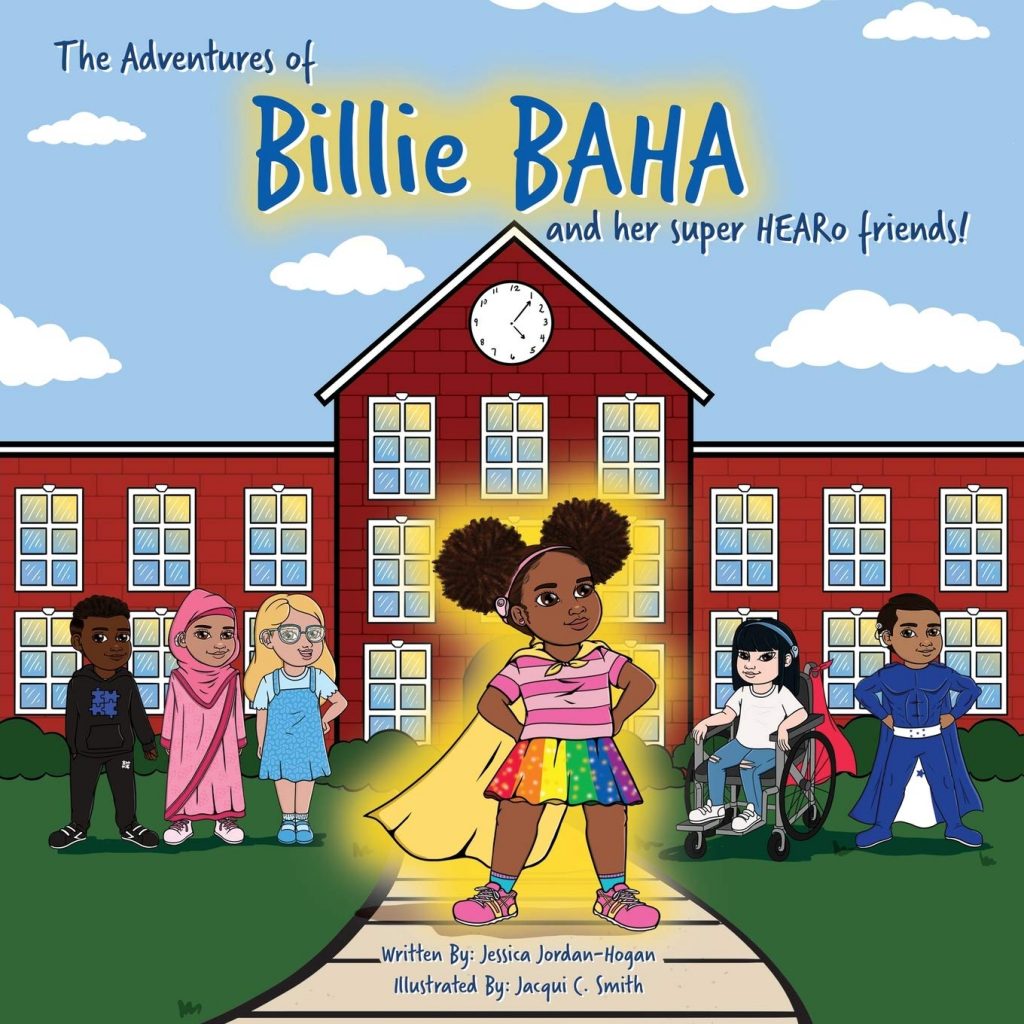 "I'm so glad you came by. My name is Billie. I'm four years old and I am also Hard of Hearing. I have bilateral hearing loss due to Microtia. Microtia is a congenital condition of a little or missing outer ear. I wear my BAHA to be able to hear the world around me.
I go to a school with all my other friends that are also Deaf or Hard of Hearing, but they don't all wear BAHAs to hear like me. Some of my friends wear behind-the-ear hearing aids or cochlear implants. I even have one friend that does not wear anything to hear, but we all have one thing in common….we are all SUPER HEARo's!
My superpowers are kindness and acceptance. Together we will discover communication repair strategies, self-advocacy, and how to bring everyone's differences together!"
The Adventures of Billie Baha is written by Jessica Jordan-Hogan, a black Teacher of the Deaf.
"My Deaf Friend Can Do Anything You Can Do is an African American children's book for all ages that celebrates tolerance and acceptance. This story features a young deaf girl and her hearing friend who convey a tale about the misunderstandings of people who are deaf or hard of hearing. This book helps readers to clearly understand that deaf people can do the same tasks that others can do. In essence, My Deaf Friend Can Do Anything You Can Do helps to bridge the gap between the deaf and hearing community by giving a better, more accurate understanding of a deaf person's life, abilities, and talents. Besides, this story also highlights aspects of bullying and promotes empathy for all. Throughout this book readers will notice different sign language signs as they read. This book encourages others to learn sign language and open their minds and hearts to the beauty of diversity!"
This book is written by Tanesha Ausby, a black CODA (Child of Deaf Adults).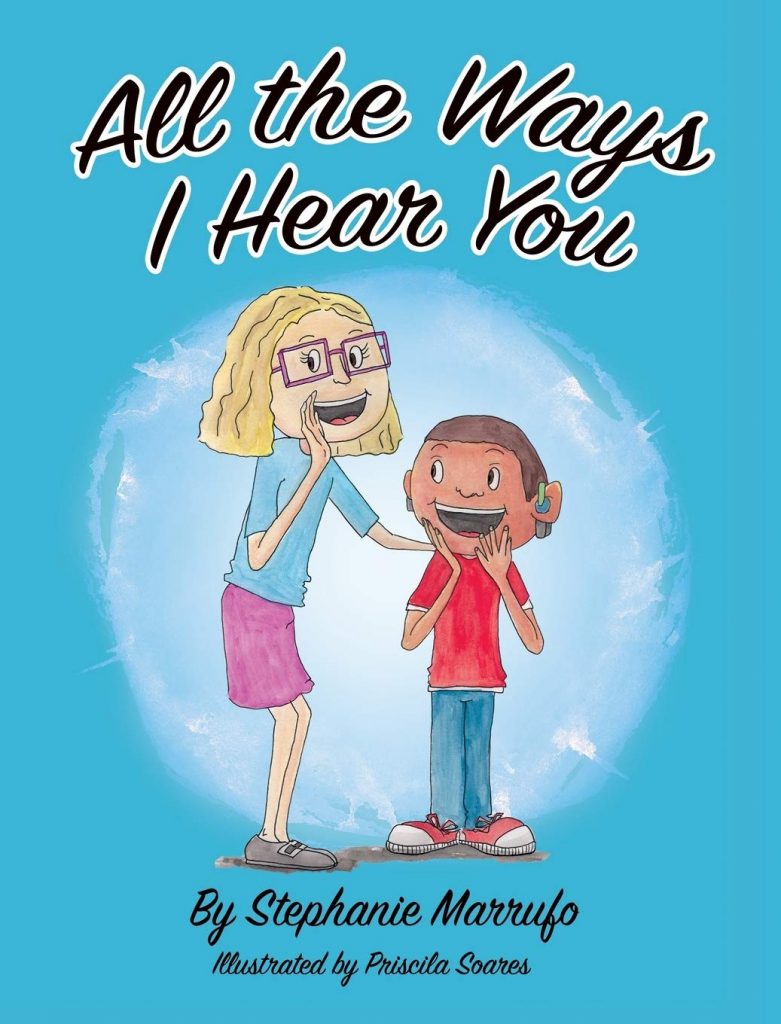 This book introduces the reader to a variety of DHH characters with (and without) every device. One character is Quinton, a black soccer player with cochlear implants. See a full flip-thru of the book here.
This book is written by Stephanie Marrufo a mom of a DHH child and illustrated by Priscila Soares a DHH mom that has a deaf son.
"David is hearing impaired. He explores the world of hearing for the first time. He gets hearing aids for the first time. He learned the importance of being unique and accepting others. He's like everyone else, but he has magic ears to hear better."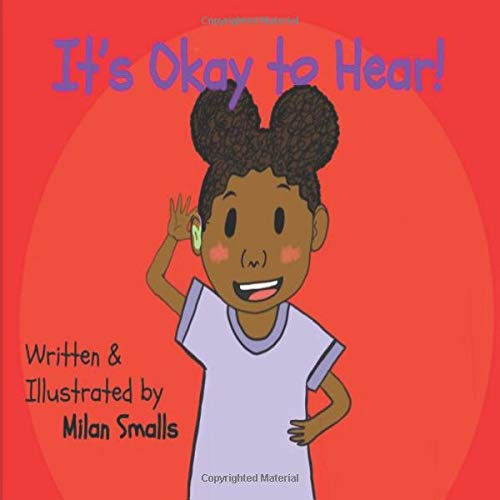 "It's hard to have a disability. It's hard not being able to hear. Join Milan to find out how she makes the best out of her disability. It's okay to be different."
"Born with hearing loss, nothing will steal his joy. Full of smiles and hope, everything in Adrion's world makes him happy. Explore with him as he gives you a glimpse of how he enjoys the simple things in life and learn why he calls his ears happy!"
"Jilly thinks she's figured out how life works. But when her sister, Emma, is born deaf, she realizes how much she still has to learn. The world is going to treat Jilly, who is white and hearing, differently from Emma,
just as it will treat them both differently from their Black cousins.
A big fantasy reader, Jilly makes a connection online with another fantasy fan, Derek, who is a Deaf, Black ASL user. She goes to Derek for help with Emma but doesn't always know the best way or time to ask for it."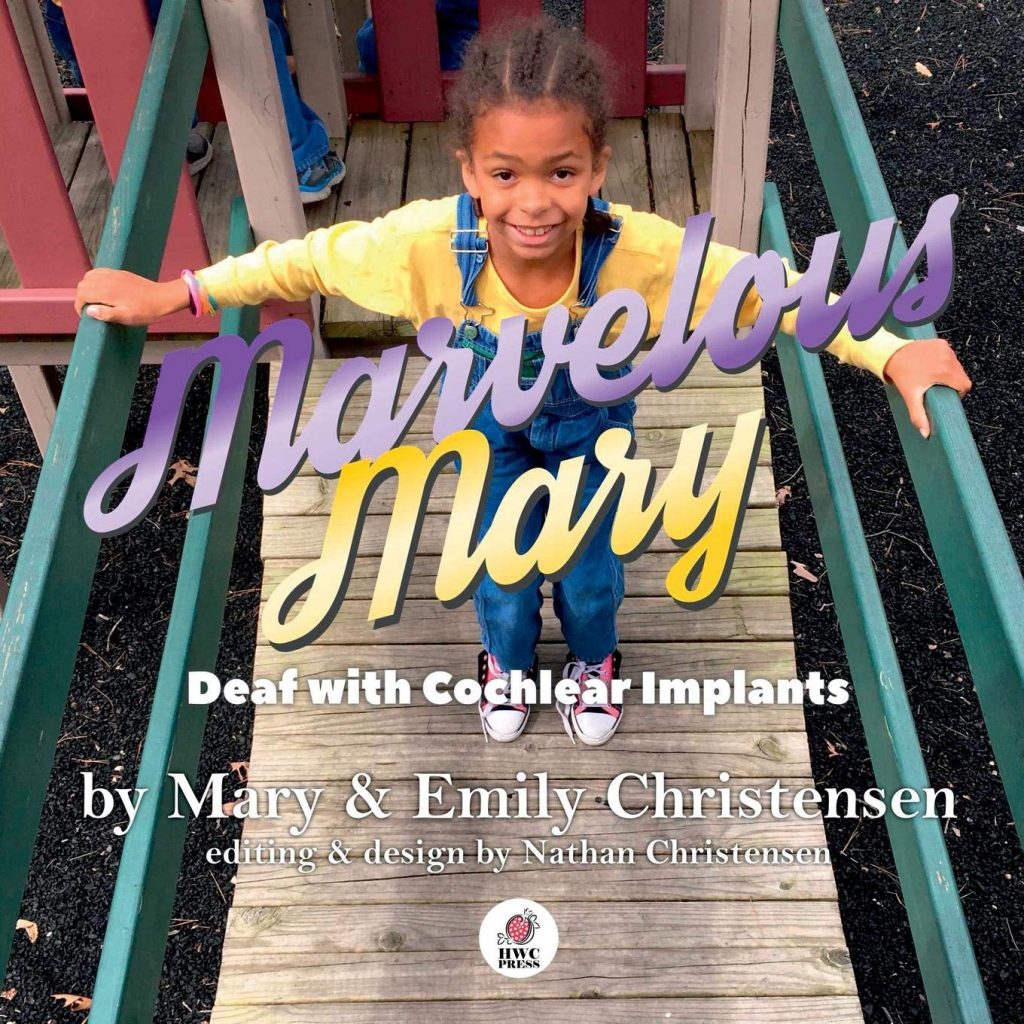 What makes Mary so marvelous? She can speak with her hands and her voice and listen with her eyes and with tiny computers hidden inside her head. This picture book helps introduce children to Deafness and the process of getting cochlear implants. It emphasizes Mary's love for sign language and Deaf culture, and how her surgery was a way of gaining greater access to the world. The book helps familiarize siblings or classmates with Deafness, and includes an introduction to the experience of surgery.
Books with Black DHH Characters that Have Hearing Loss or Wear Hearing Devices
This is one of my favorite board books for any baby shower, teacher, audiologist, etc!! Great scientific info and representation of all kinds of DHH kids. Check out the book flip-thru here to see the full page with a young black girl wearing hearing aids.
The central character in this book is black and wears a cochlear implant on her right side. The illustrations also show her cochlear implant charging station on her bedside table. Earlier editions have different illustrations and they don't include any deaf characters.
Books About Hearing or Hearing Loss with Black Characters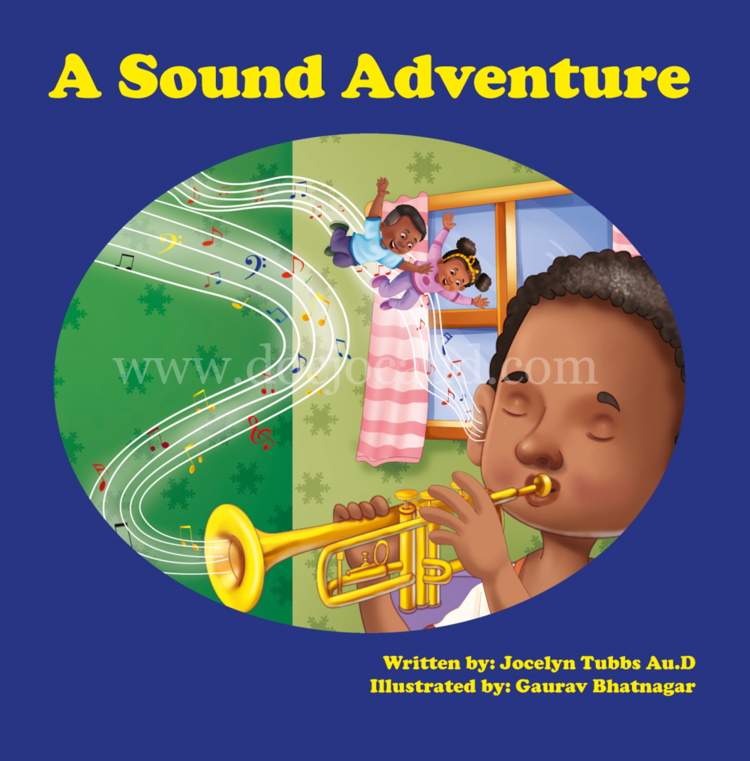 "A Sound Adventure is a book written by Dr. Jocelyn Tubbs, Au.D. It is a story that helps children learn about how sound travels through the ear. Jason and Ciara magically enter their Dad's ear, following music notes through the sound pathway. They get to see all of the structures that help sound reach the brain!"
The author Dr. Jocelyn Tubbs is a black Audiologist. Check out the book flip-thru of A Sound Adventure here.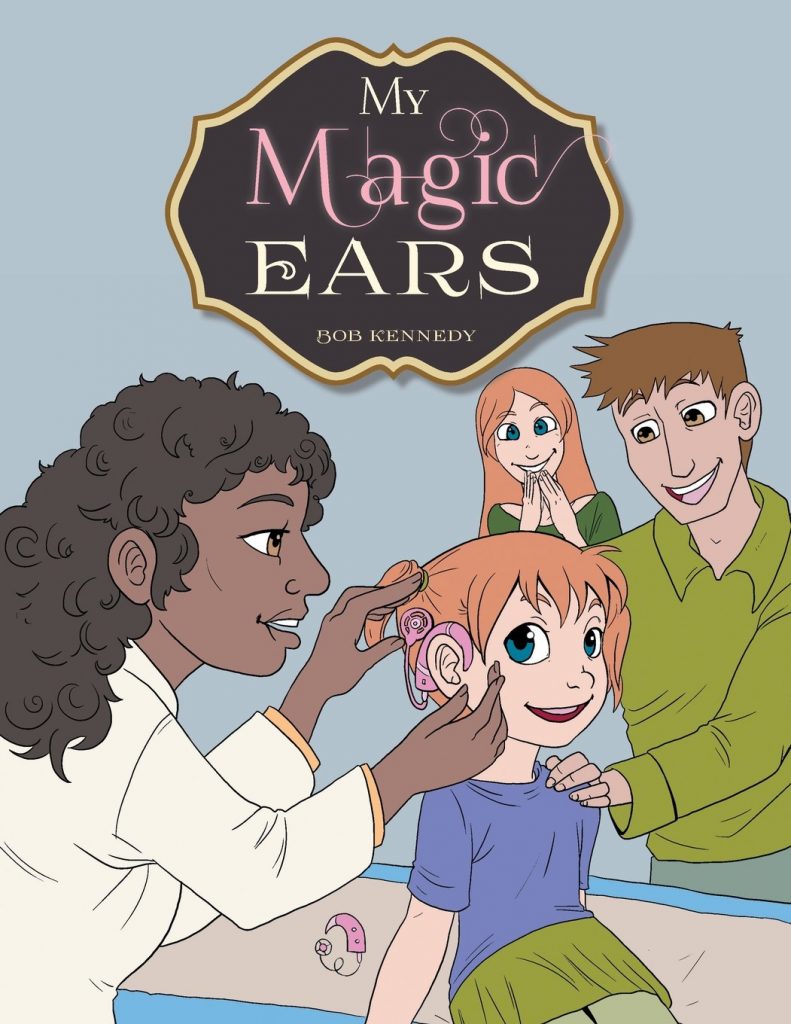 My Magic Ears is a book with a black audiologist about a girl receiving cochlear implants.
Books for Adults
"The incredible life story of Haben Girma, the first Deafblind graduate of Harvard Law School, and her amazing journey from isolation to the world stage. Haben grew up spending summers with her family in the enchanting Eritrean city of Asmara. There, she discovered courage as she faced off against a bull she couldn't see, and found in herself an abiding strength as she absorbed her parents' harrowing experiences during Eritrea's thirty-year war with Ethiopia. Their refugee story inspired her to embark on a quest for knowledge, traveling the world in search of the secret to belonging. She explored numerous fascinating places, including Mali, where she helped build a school under the scorching Saharan sun. Her many adventures over the years range from the hair-raising to the hilarious.
Haben defines disability as an opportunity for innovation. She learned non-visual techniques for everything from dancing salsa to handling an electric saw. She developed a text-to-braille communication system that created an exciting new way to connect with people. Haben pioneered her way through obstacles, graduated from Harvard Law, and now uses her talents to advocate for people with disabilities.
Haben takes readers through a thrilling game of blind hide-and-seek in Louisiana, a treacherous climb up an iceberg in Alaska, and a magical moment with President Obama at The White House. Warm, funny, thoughtful, and uplifting, this captivating memoir is a testament to one woman's determination to find the keys to connection."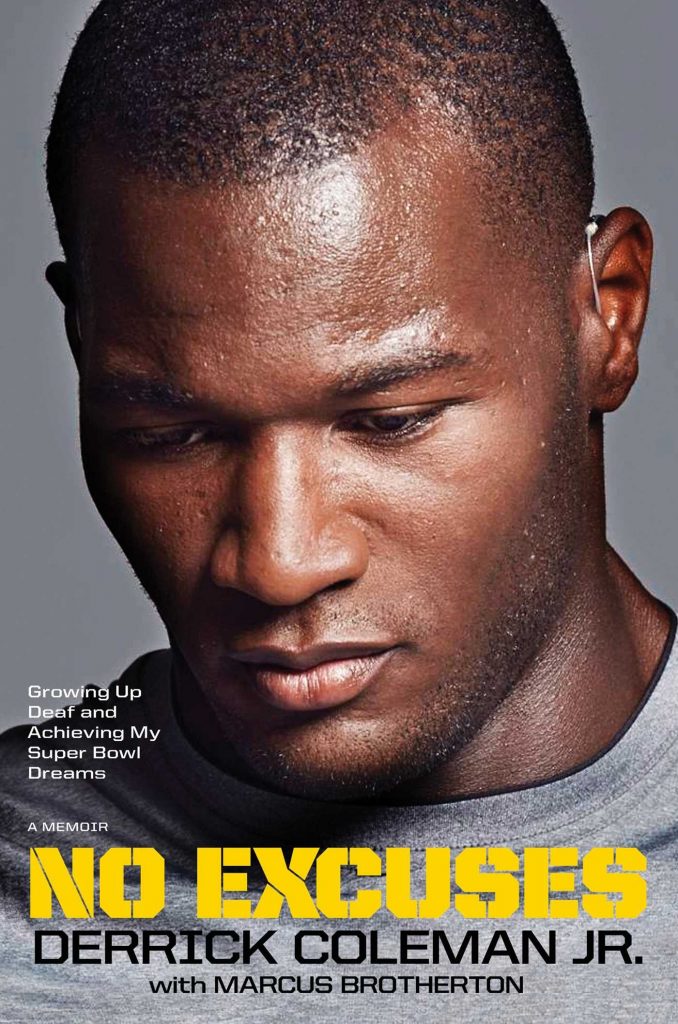 "Trailblazing Seattle Seahawks fullback Derrick Coleman Jr.—the first deaf athlete to play offense in the NFL—tells his inspirational journey of persevering through every obstacle, remaining dedicated to the hard work and a no-excuses attitude that ultimately earned him a Super Bowl victory. Great for readers of all ages.
Even at a young age, if anyone told Derrick Coleman what he couldn't do, he'd just reply, "Watch me." Diagnosed as hearing-impaired at age three, he faced a potentially limited future, but neither he nor his family were going to let that happen. Now Derrick shares the story of his remarkable journey toward NFL stardom, of the friends and colleagues who cheered him on when skeptics tried to chip away at his confidence, and of how every challenge he faced only strengthened his resolve.
At the heart of his story is his unconventional family, whose one constant was always love. When Derrick was misunderstood as "difficult," or bullied and laughed at by schoolmates, he removed his hearing aids and listened instead to his mother's advice: Never let anyone else tell you how far you can go.
Playing football became an outlet for Derrick's restless energy and a way of proving he could forge his own path. As a senior at UCLA, he became a standout, an award-winning player who led his team with eleven touchdowns and demonstrated to the world what his heart had known all along: He had what it took to be a champion.
No Excuses is more than just Derrick Coleman's story as a sports legend, inspirational role model, and icon. It's a motivating and unique testament to the human spirit, to the potential inside everyone who has ever faced difficult obstacles. It's about aiming high in life, giving it your all, and never ever settling for excuses."
"Mary Herring Wright's memoir adds an important dimension to the current literature in that it is a story by and about an African American deaf child. The author recounts her experiences growing up as a deaf person in Iron Mine, North Carolina, from the 1920s through the 1940s. Her story is unique and historically significant because it provides valuable descriptive information about the faculty and staff of the North Carolina school for Black deaf and blind students from the perspective of a student as well as a student teacher. In addition, this engrossing narrative contains details about the curriculum, which included a week-long Black History celebration where students learned about important Blacks such as Madame Walker, Paul Laurence Dunbar, and George Washington Carver. It also describes the physical facilities as well as the changes in those facilities over the years. In addition, Sounds Like Home occurs over a period of time that covers two major events in American history, the Depression and World War II.
Wright's account is one of enduring faith, perseverance, and optimism. Her keen observations will serve as a source of inspiration for others who are challenged in their own ways by life's obstacles."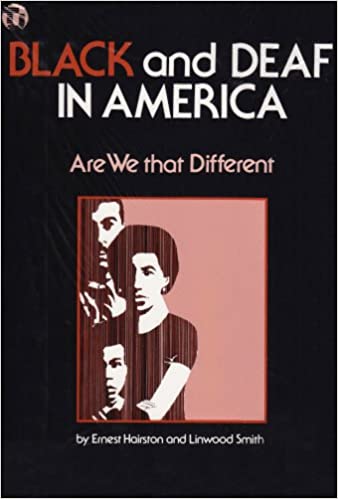 From the Foreword of this 91 page book: "Being both Black and deaf is in many ways a 'double whammy' because of society's abrogation of each of these two minorities. When the conditions of Blackness and deafness are combined in one person, the individual effects of prejudice, discrimination, and negative self-image are compounded exponentially. For example, a disproportionate percent of Black deaf youth are educated in urban schools where the programs are often unbelievably bad. In many of these schools, the Black child is mainstreamed with few, if any, supportive services, or else he is placed in classes with retarded children or those having other disabilities totally unrelated to his own. The results are devastating. The ramifications of deafness, the lack of sufficient Black role models, and the overall racial situation in the schools deprive Black deaf youth of the strong sense of racial pride many normally hearing Black youth have. This, added to the educational deprivation and the communication difficulties which are inheritance in deafness, leaves the problems of Black deaf people desperately in need of the attention Mr. Hairston's and Mr. Smith's book gives them. Both authors are Black and deaf themselves and know intimately of the experiences and needs of which they write. In the pages which follow, they unfold a story large in human terms, if small relative to the numbers of the people involved."
Check out my blog post DHH Books for Kids and Adults for even more!