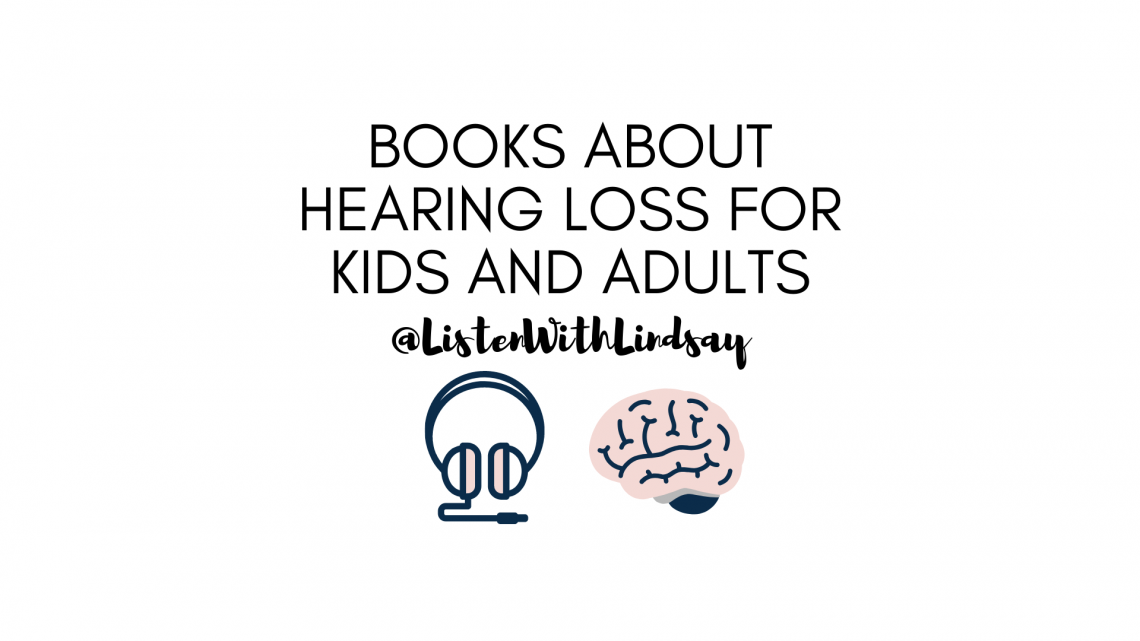 Books About Hearing Loss for Kids and Adults
A friend recently asked for help finding a book about a child getting a cochlear implant. I found a few options and vaguely remembered books I've seen throughout the years, but it made me want to make a comprehensive list of as many of the books about hearing loss as I could find. In this list I have books about hearing loss, books about children with hearing loss, books about hearing aids, books about kids getting hearing aids, books with characters that have hearing loss, books with characters that are deaf, books about characters with microtia/atresia, books about characters with unilateral hearing loss, books about using sign language, and on and on. Hopefully I'll eventually be able to categorize these books even more specifically by target age, but this is a good start!
Books About Getting a Cochlear Implant
Disclaimer: Some of these links are affiliate links which means I make a small commission if you click on the link and then make the purchase. This does not cost you any extra, but does help me with the costs of running Listen With Lindsay.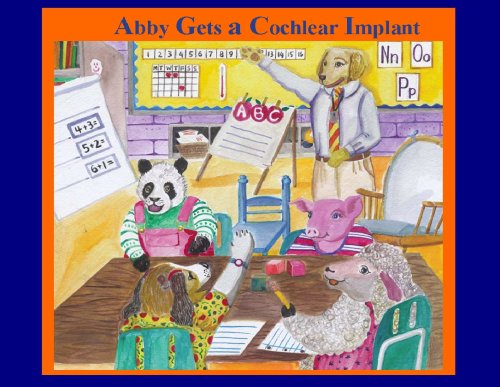 This children's picture book illustrates the process of how Abby gets a cochlear implant. Abby, who wears purple hearing aids, has a progressive hearing loss and her family chooses a cochlear implant for her. The story goes on to describe hearing testing, cochlear implants and the steps a family would take to explore this option of habilitation for their child who has hearing loss.
Mellie and Her Cochlear Implants is a colorful book about Mellie, a young elephant and her family. It tells the story of the family's journey from the discovery that Mellie is deaf, through the process of cochlear implant candidacy, surgery, fitting, and use of her cochlear implants.
Come join Mila and her family on their journey as they navigate the world of hearing loss, hearing aids and cochlear implants! Mila refers on her new born hearing screening, and her family begins to navigate this new world. After two years, Mila's hearing drops and she quickly becomes a candidate for cochlear implants. Her family does not know what to expect, and neither does Mila. We touch on an ABR, initial diagnosis, the listening booth, the cochlear implant procedure and the multiple therapies that our children with hearing loss require all in a positive way. The characters are happy and curious; the illustrations are colorful and lighthearted and the language is easy to understand and relatable. This is Mila's journey to cochlear implantation. With her family by her side, she can do anything.
My Magic Ears is about a little girl who receives cochlear implants and the world of sound that she discovers.
This book is written by my friend Valli and her daughter Harper Giddeons. You have probably seen Valli around because of her super popular blog My Battle Call. Harper was born with hearing loss and had Enlarged Vestibular Aqueduct Disorder so her hearing loss ended up progressing. This book talks about much more than getting a cochlear implant, but kids with EVAs are the ones who need books like this the most because they tend to lose their hearing when they're older. This book is super relatable, funny, and inspiring and shows that kids with hearing loss can do anything. It's a must have for your collection!
Violet's Story is about a little girl who loses her hearing and eventually gets a cochlear implant. This story is for adults to share with children with hearing loss, their siblings, friends and peers. This book is recommended for children age five years plus. It is written by Senior Auditory Verbal Therapist, Frances Clark.
Books With Cochlear Implants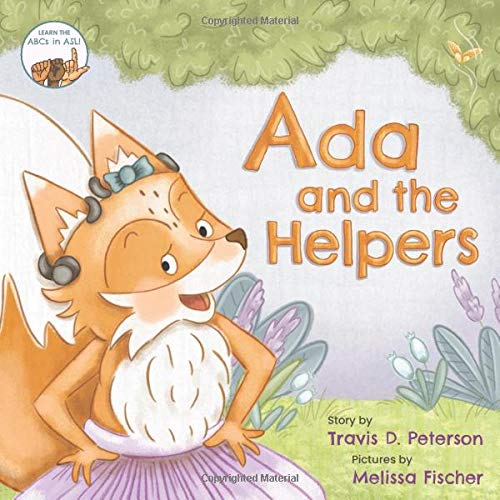 Ada is a dancing, deaf fox with cochlear implants who loves to help others. On her way to dance in a talent show one day, she meets three other creatures who are each facing a physical challenge or disability of their own. She decides to help each of her new friends to see past their challenges and discover their natural, God-given strengths. But can they help her in return? Ada's a bit nervous about the talent show!
Will she be able to hear the music clearly? Will everyone laugh at her? Pick up a copy of Ada and the Helpers today and follow Ada and her new friends on an exciting new adventure that inspires friendship, helping others, inclusion, and finding your strengths. Plus, your child can learn the ASL alphabet at the same time! The rhyming nature of the story is welcoming for hearing kids, but is especially helpful for young children who are hard-of-hearing.
Follow Jack, a profoundly deaf preschooler, through his first year of hearing with his cochlear implants. Listen along as Jack discovers the sounds of his world — animals, holidays, transportation and more! What will be Jack's favorite sound of all?
This fun and original picture book introduces Almigal, a spunky little girl with hearing loss who is now determined to hear every single sound in the universe thanks to her new cotton candy pink cochlear implants. These sounds include a baby's funny giggle, the robin's chirps outside the window, the soft song played during ballet class, and especially her best friend Chloe's teeny-tiny voice. But most of all, Almigal wants to hear her parents whisper to her when they tuck her into bed every night. Almigal's spirit will have both children and parents alike rooting for her, while the story delivers a positive message about accepting and celebrating differences.
'Ling Ling Bird Hears with his Magic Ears' takes us on an exciting journey through the world of sound – ideal for helping young children in the early stages of learning to listen and speak. We accompany Ling Ling Bird, who is deaf – his ears don't work but not to worry – he wears cochlear implants that help him to hear. Together we listen to what he hears with his super magic ears!
"Ling Ling Bird likes the big moo cow…but not the cat that says meow.
The lion is loud when it roars; so is the crocodile snapping its jaws!"
Aimed at young children (0-3 years old) and early listeners (listening age of 0-3 years), this 36-page book is bursting with colour – illustrated throughout with bright and bold images, ideal for little people with inquiring minds.
What makes Mary so marvelous? She can speak with her hands and her voice, and listen with her eyes and with tiny computers hidden inside her head. This picture book helps introduce children to Deafness and the process of getting cochlear implants. It emphasizes Mary's love for sign language and Deaf culture, and how her surgery was a way of gaining greater access to the world. The book helps familiarize siblings or classmates with Deafness, and includes an introduction to the experience of surgery.
Mighty Mila is a heartwarming story about believing in yourself and celebrating the differences that make each of us wonderfully unique. This book was inspired by a spunky little girl with hearing loss and the author's deep passion to create more understanding and inclusion in the world.
Mighty Mila is the perfect social-emotional learning (SEL) book to teach children about inclusion, empathy and respect for all types of people through a fun, engaging story. Readers of all ages will fall in love with Mila, a spunky imaginative girl who also happens to be deaf and wears cochlear implant hearing devices. They'll love coming along with Mila as she sets out to prove to her parents that she's a big kid. They'll laugh at her imaginative approach to overcoming obstacles, cheer her on as she uses her cochlear implants to help her along the way, and root for her to succeed when she finally meets a challenge she can't figure out on her own.
Mighty Mila's bright and whimsical illustrations contain so many fun details that will delight children, and parents, educators and children will love using the "i-spy" supplemental learning activities at the end of the story to further explore the detailed illustrations while also building vocabulary and listening skills!
I am a mother of a child who has received cochlear implants. He has two sisters who don't have hearing loss. My husband and I do not have hearing loss either. And I was anticipating the day when my son would ask us why he is different in terms of how he hears. I've read a lot of books to my children and I've also been painting for years as a hobby. So I decided to combine the two and write and illustrate a children's book about a child with cochlear implants. I hope to empower my son and inspire him to embrace his different way of hearing. While I was writing and illustrating this book I was thinking of all the hard of hearing children who would love to read a book with the main character having cochlear implants. I think it's important for children to feel accepted and loved amidst all their differences they have with their surroundings.This book was written and illustrated with love, I hope you enjoy it and read it for your little ones.
RALLY CAPS is a humorous, fun-filled baseball and camp story. Ten year old Jordan is injured in an unfortunate and frightening accident while trying out for the Little League Travel team. Recovery is difficult. At summer camp he struggles to conquer his anxiety and fear in order to return to his beloved game of baseball. He forms a friendship with a deaf Italian boy, Luca, who wears a cochlear implant. Luca's compelling positive nothing is impossible attitude, along with the inspiration he draws from his idol, Hall of Famer Cal Ripken Jr., gives Jordan the courage to return to baseball with a passion. Find out what happens as Rally Caps are raised in the bottom of the final inning in the biggest game of Jordan's life. Boys and girls alike will enjoy this touching story of persevering through difficult times.
Sammy Sea turtle wears cochlear implants. The other animals in the ocean think he is funny looking and different. But he shows them that he really isn't different, he is just a sea turtle with SUPER EARS that likes to play just like they do.
The central character in this book wears a cochlear implant on her right side. The illustrations also show her cochlear implant charging station on her bedside table. Earlier editions have different illustrations and they don't include any deaf characters.
Sophie's Tales: Overcoming Obstacles is the second adventure in the Sophie's Tales series about a little dog with hearing loss who uses a cochlear implant to hear. In Overcoming Obstacles, Sophie is ready to hit the agility course and make some new friends. She meets Champ, a glasses-wearing Labradoodle who is confident he will be the agility champion. Will Champ be the winner or can Sophie help him learn that sometimes winning isn't the only way to have fun?
Follow Sunny as she lives her life as a deaf child, in a hearing world, with hearing aids. Then, her life changes when her aids no longer help – but there is a solution. Sunny is about hope, acceptance and a positive "can do" attitude. This book is the first in a new series. In future books, follow Sunny's adventures as she uses special tools such as a bed-shaker alarm clock, flashing telephone signaler, etc. to live her life.
Books About Multiple Hearing Devices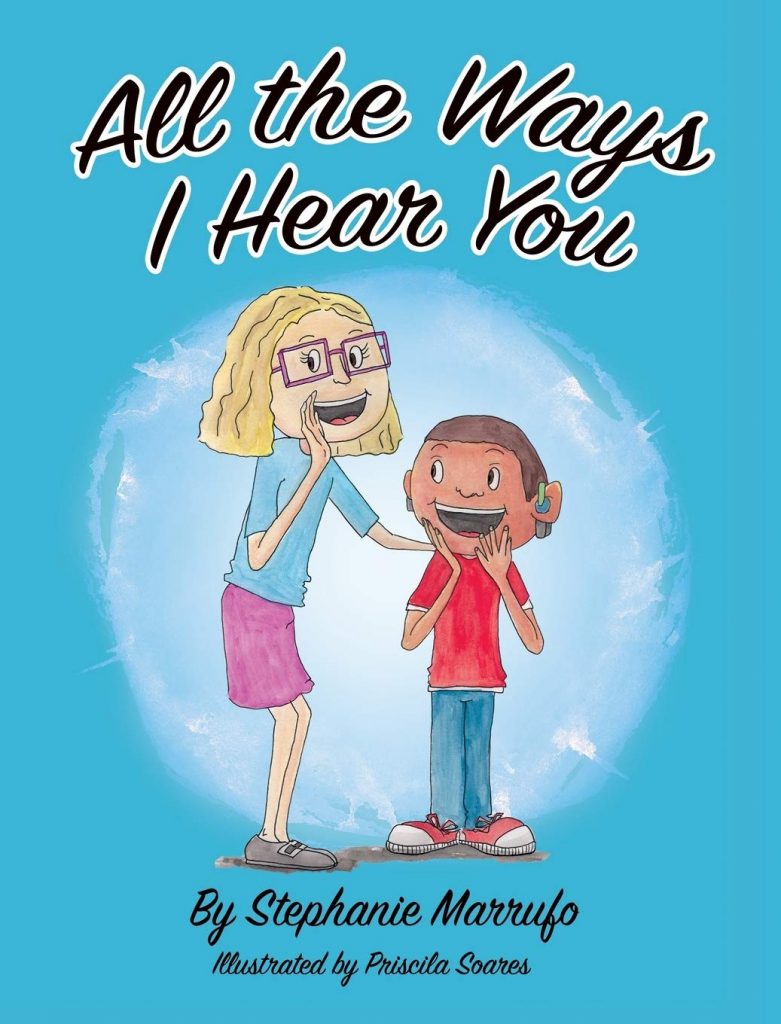 All the Ways I Hear You first introduces our young hard of hearing narrator, Sy, and his neat hearing aids. From there, Sy goes on to introduce his diverse group of friends who are deaf, hard of hearing or deafblind and their own hearing technology and communication styles, like cochlear implants, bone anchored hearing systems, communication boards/tablets and sign language. The book also introduces other children in familial and support roles, namely a hearing sibling and a child of deaf adults.
This is the first book written by Stephanie Marrufo, who is Sy's mom. When Sy was diagnosed with hearing loss as a 2-year-old, Stephanie began searching for children's books that featured or included deaf and hard of hearing characters and found this type of resource to be extremely lacking. Once she decided to write her own, she realized the importance of being as inclusive as possible, and following that decision, this unique story came to life.
"All the Ways I Hear You" is beautifully illustrated by Priscila Soares, an artist with hearing loss who wears bilateral bone anchored hearing systems, and mother to a child born deaf who now has cochlear implants. She uses her talents to advocate for people with hearing loss by sharing their stories through her mixed media work.
If you are a d/Deaf or hard of hearing person, the parent or family member of a d/Deaf or hard of hearing child, an educator, a daycare provider, a medical or support professional providing services to d/Deaf and hard of hearing people, a community organization supporting d/Deaf and hard of hearing people, or if you are simply interested in adding inclusive resources to your children's book shelf… This is the book you've been waiting for!
The central elephant character in this story wears bilateral hearing aids and the tiger is wearing bilateral cochlear implants.
Harmony Hears a Hoot is a children's book about a young owl name Harmony who relates to kids with and without hearing loss and teaches tolerance with her adventures! Follow Harmony on her first day of school as she meets new friends, enjoys her classes, and teaches everyone what it's like to have something unique about themselves. This book is appropriate for children with hearing aids, cochlear implants, BAHA, and more. It's also recommended for adults with hearing loss and devices to assist in explaining them to children.
Books About Having Hearing Aids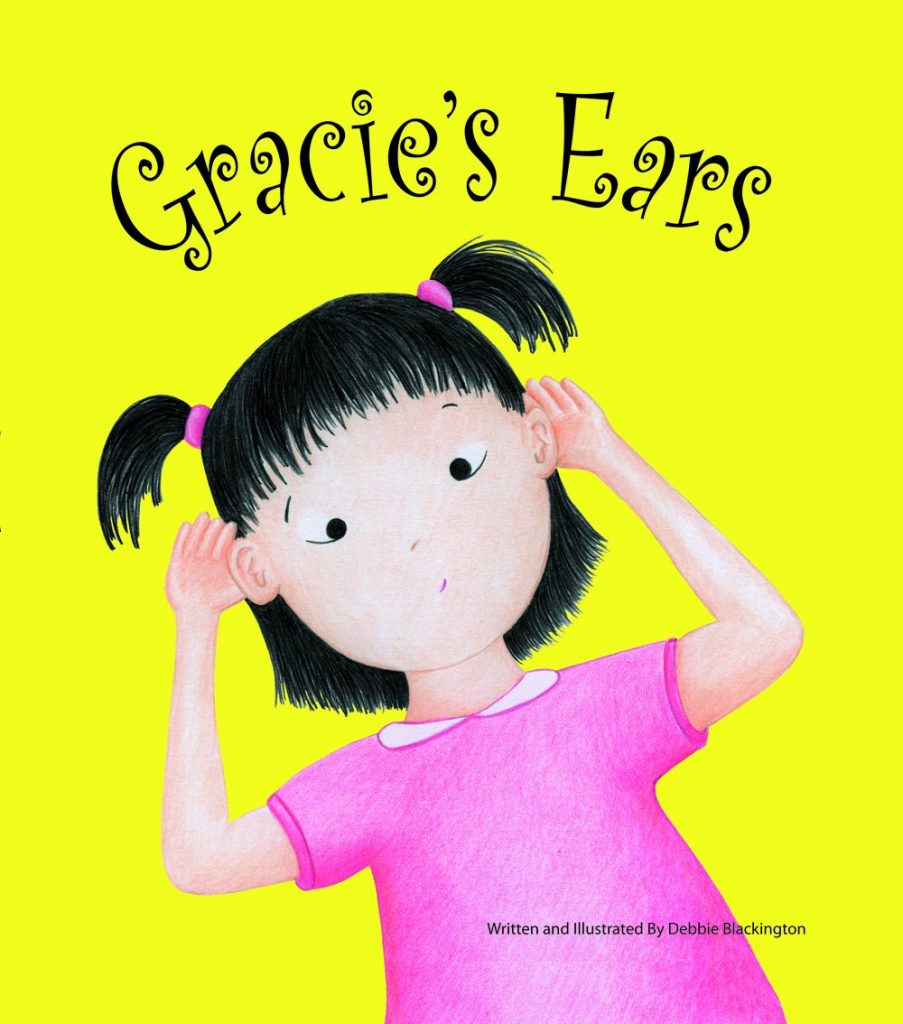 This is the story of Gracie, your everyday fun-loving kid who does everything that you do, but has trouble hearing. It's as if her ears are sleeping! Can anyone or anything wake up Gracie's ears? Based on a true story. Told in rhyme, this uplifting story with gentle illustrations is based on a real little girl who doesn't realize her ears aren't working like most people's do. When her family searches for answers, she discovers the wonder of hearing aids and the sounds of the world. Gracie's Ears introduces what hearing aids are to young children needing help to hear and to their friends who wonder – what are those things in their friend's ears and what do they do?
Max and His Hearing Aids is a children's book that provides better understanding to children and parents when they discover their child has a hearing loss. Written for a preschool audience, Max and His Hearing Aids invites readers to discover the joy and benefits of hearing aids.
A life-changing story for hearing-impaired children and their families, Rivers' Walk tells the story of a vibrant, strong-willed, hearing-impaired bunny who discovers just how much fun wearing hearing aids can be. Wonderfully illustrated and written, Rivers' Walk captures the imagination and encourages hearing-impaired children to embrace and wear their hearing aids. This story was inspired by a very real and very special little girl named Rivers, a student at The Memphis Oral School for the Deaf (MOSD).
Kena's classmates make fun of her for wearing hearing aids, but what they don't know is that her hearing aids give her ears super powers, turning her into Super Kena! Super Kena is assembling one fierce team to make a difference and help her classmates realize that each of them have their own super powers which make them more alike than different.
Many people are born with or develop hearing problems, which leads them to wear hearing aids. Readers learn about how these devices help those with hearing problems through accessible text and fact boxes that focus on science, technology, and guidance. The sensitive tone promotes self-acceptance for those who wear hearing aids, provides answers for those who may need them, and fosters a sense of empathy among readers who may know people with hearing problems. The imaginative illustrations, including colorful characters, make this an educational and entertaining learning experience for young readers.
Books About Getting Hearing Aids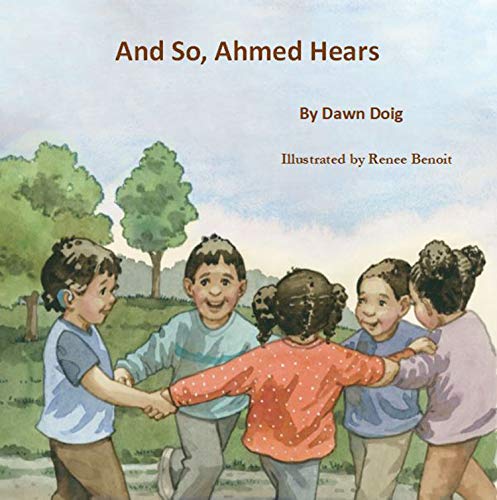 Central character Ahmed can't hear speech before being fitted with his hearing aids.
Did your child just get hearing aids? Is your child feeling self-conscience about their hearing loss? "Bessie Needs Hearing Aids" is a children's book that will help children with hearing loss understand the process, and that they are not alone. Written and illustrated by a teenage girl who went through this process, so it will resonate with children just learning of hearing issues, or coping with wearing hearing aids. The book received numerous accolades so it was decided to make it available to all, in order to possibly help other children with hearing loss. When a child goes through the process of getting hearing aids, it is scary for them and difficult for a parent to explain. This is a story of Bessie the bunny, who was so excited to start school only to have the kids get frustrated when she was not hearing them properly. Bessie visits the audiologist and learns about hearing aids and how they can help with her hearing loss.
This fun and imaginative book shows that wearing a hearing aid can be a pleasant experience. This humorous depiction of hearing, before and after hearing aids, makes it a best seller with children and Audiologists.
David is hearing impaired. He explores the world of hearing for the first time. He gets hearing aids for the first time. He learned the importance of being unique and accepting others . He's like everyone else, but he has magic ears to hear better.
Maxi's Super Ears is the story of the time a brave, young boy got his first set of hearing aids! Follow Maxi on his journey into the world of hearing. Maxi will inspire you to see beyond what is on the outside and to love unconditionally. This is a perfect book for the family, which teaches a beautiful lesson. If they can hear, they can compete.
Now I Can Hear! was written for very young children who use hearing aids. This book is fun and delightful, and will be sure to charm any young child, with or without hearing loss.
Zola has a problem. She does not hear as well as other kids. Today is the day she goes to the doctor, a special doctor, to check her hearing. Zola is worried because she has heard all about those kids who do not hear well. Her greatest fear is having to wear a hearing aid. She is worried about how her friends will react if she has to get a hearing aid and wear it to school. Will they tease her? Will she be bullied or will they accept her and still be her friend? Not sure about what the day will bring, with great sadness and frustration, she pushes back her blanket and gets out of the bed to go to the doctor's office.
"Zola Gets Hearing Aids" was written by an author who has lived with hearing loss her entire life. Driven to help little girls and boys all over the world feel included and accepted, Narita Snead has stepped out of the shadows to be a voice to those who are often ignored.
Books About FM Systems
Sometimes at school, the teacher's voice didn't make it all the way to Simone's ear. The messages got mixed up! Never fear; Simone is a smart and resourceful Super Listener who uses her listening power, her brain power, and her FM system to solve the problem.
Simone features a positive main character who is hard of hearing. This light-hearted story and engaging illustrations introduce young readers to the use of assistive listening devices in an academic setting. The book celebrates each individual's drive to best manage their environment, and their choice to use their preferred communication and learning tools.
Books About Hearing and Having Hearing Loss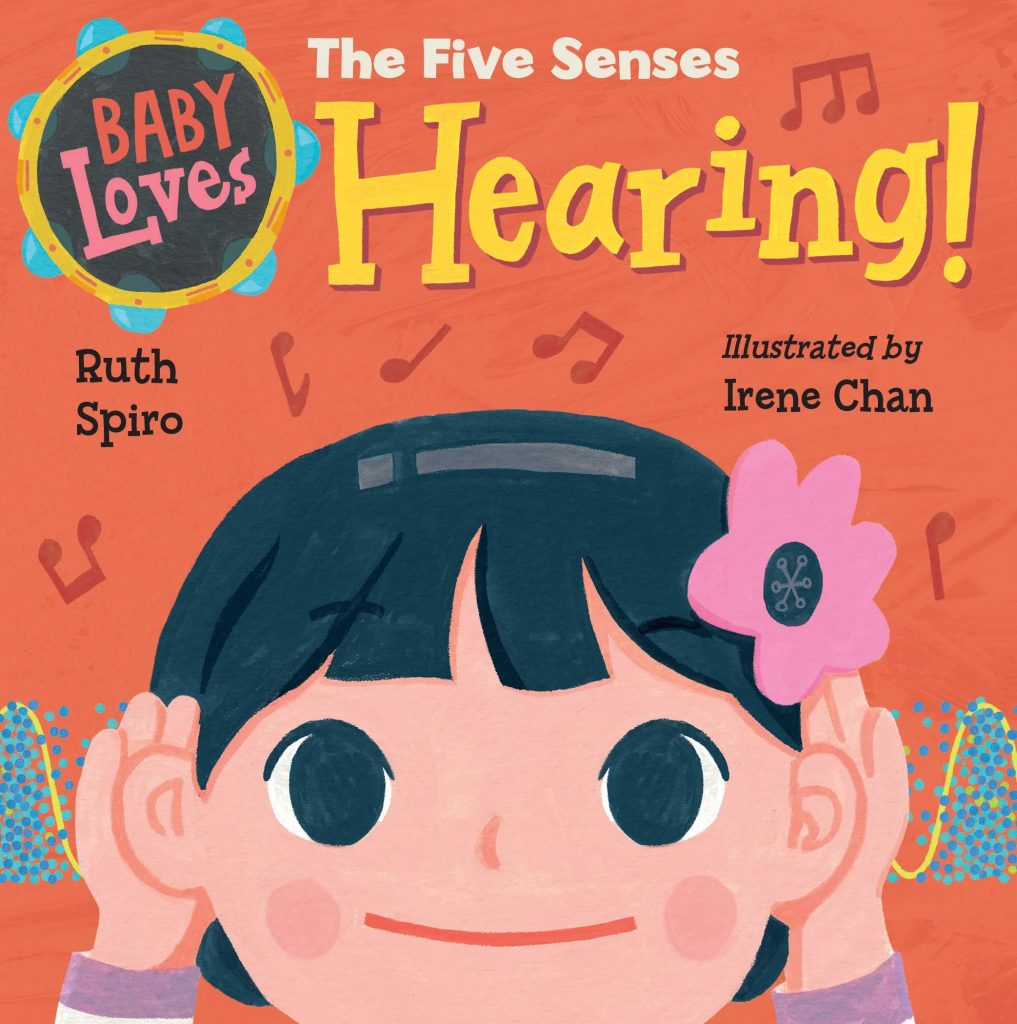 [From an Amazon Review] We really like the Baby Loves series, but this is my favorite so far. A+ on all levels: the physics, the biology, the terminology, the inclusiveness (defines cochlear implants, hearing aids and shows sign language; racial and cultural diversity is showcased with all 4 different children in this story). The illustrations are super charming. And my kid won't stop asking for it. 🙂
It's Ben's 7th birthday, but he really doesn't want a birthday party! When his friends surprise him, he then learns just how easy it is for everyone to join in the fun. Talks about hearing aids and sign language.
This book gives readers a glimpse into the life of Isaiah Baier, a very normal, yet extraordinary, hearing impaired kid. After losing his hearing to meningitis at 20 months old, Isaiah began a harrowing journey through both trial and triumph. Be prepared to laugh, cry, and be inspired as Isaiah recounts every day circumstances from his own remarkable 11 year old perspective.
Lacey's luxurious life as an only child changes the day Mom and Dad bring home a new baby. Although Lacey goes through all the confusion and upset that any child feels when presented with a new sister or brother, she eventually comes to like having Elana around.
Freddie finds a fairy, tangled in a tree. Freddie is desperate for a pet, so when he rescues Bessie-Belle and she offers to grant his wishes, he knows just what to ask for. The only problem is that Bessie-Belle can't hear very well, and Freddie tends to mumble, and Freddie is given a net. So they keep trying. Luckily, the Fairy Queen is on hand to explain. This is a delightful tale full of Julia Donaldson's trademark rhyme and wit, with a subtle message about hearing impairments.
Tom, who is a young deaf boy, narrates his story. He tells the reader how he wears a hearing aid to help his limited hearing. He also lip reads and is learning sign language. He signs to communicate with his friend David, who is profoundly deaf and can't use a hearing aid. The book includes descriptions and illustrations of cochlear implants and radio transmitters. Tom talks about some of the negative experiences he has had, including being teased about his condition and how he had to make new friends, how his hearing aid can sometimes cause interference from computer equipment and how he sometimes misses what the teacher is saying. Tom explains that he used to be frightened at night in the dark and silence with his hearing aid switched off, but he has learnt to like it (and he isn't disturbed by his baby brother!) Tom describes his visits to the hearing clinic where he is assessed and fitted for new ear moulds. His gran, who also wears a hearing aid, explains that sometimes people can be impatient and unkind when you can't hear them. Tom mentions how helpful his friends can be by explaining things he has missed because of his deafness.
Helen Oxenbury's brilliant board books have delighted a generation of babies. Now from the most widely loved of artists comes a reissue of a board book to help very young children explore their worlds. In I HEAR, a baby listens to a bird sing, a dog bark, and a watch tick. Full of character and humor, this charming book forms a winsome introduction to the senses.
Using colored drawings and a positive approach, this handbook is designed for kids with hearing loss and their parents. Kids learn how to manage challenging listening situations as well as important concepts about hearing loss.
It's hard to have a disability. It's hard not being able to hear. Join Milan to find out how she makes the best out of her disability. It's okay to be different.
Larger-than-life Ling Ling Bird forms an unlikely bond with tiny wee Chickadee in this uplifting tale of discovery, friendship and acceptance. While Chickadee gains a fascinating insight into the world of her dazzling new buddy who is deaf, Ling Ling Bird learns that being different does not prevent him forming special friendships. Amazing things are possible with a can-do attitude!
This 30-page picture book with full color illustrations throughout, is written for older children and early readers (6-8 years). In the author's personal experience, this is the age when deaf children and their school friends really start to show an interest in the workings of their cochlear implants / hearing aids. The story encourages deaf children to aim for the stars, while acknowledging the hard work it takes to learn to listen and speak. The book uses ambitious language, which makes it ideal for family reading and for younger listeners to learn some of the terminology associated with hearing loss and hearing technology.
Answering many questions about life with cochlear implants ('magic ears'), highlighting both challenges and opportunities, this inspiring book will help friends, families and teachers of deaf children to better support and understand their tough but rewarding journey into the hearing, speaking world. By championing such a fun character with hearing loss like Ling Ling Bird, who is undeterred by his disability, it is hoped this delightful tale will help deaf children around the world to build their self-esteem, pride in who they are and a strong sense of personal identity.
Buddy's father had a beautiful big nose. He was a great sniffer. Buddy's mother had beautiful big teeth. She was a great chomper. Buddy had beautiful big ears. It didn't matter. Helen Lester and Lynn Munsinger have created eight children's books together. Munsinger's unparalleled animal characters and Lester's hysterical text have joined together to create another silly tale about a bunny who just can't seem to listen.
A Sound Adventure is a book written by Dr. Jocelyn Tubbs, Au.D. It is a story that helps children learn about how sound travels through the ear.
Jason and Ciara magically enter their Dad's ear, following music notes through the sound pathway. They get to see all of the structures that help sound reach the brain!
Books About Characters that Have Hearing Loss
Addy has worn hearing aids for as long as she can remember. Her mother tells her this makes her special, but now that Addy's in grade six, she wants to be special for what she's done. When Addy joins the school running club to keep her best friend, Lucy, company, she discovers she is a gifted runner. Lucy isn't, which is problematic. Further troubles surface when Addy gets paired on a school project with Sierra, a smart, self-assured new classmate who wears a cochlear implant. Addy is surprised to discover hearing loss is all they have in common—and a shared disability is not enough of a foundation for a friendship. True friends support each other, even if they have different passions and dreams. More importantly, Addy comes to understand that she is defined by more than her hearing loss. She has the power to choose how people will see her, and she does.
Athena, a little girl who was born with a hearing loss, has a daily routine that she follows every single day including putting in her hearing aids! Her routine changes slightly, however, when she takes a trip with her parents to the marina. Athena's amplified hearing introduces her to a few fun water friends, turning the trip into a magical sound adventure. Athena Visits the Marina allows readers the opportunity to discover alongside Athena the amazing things that can happen in unexpected places. (Plus, you'll get to learn the meaning of some cool words, too!) Are you ready to visit the marina with Athena? Check out a flip-thru of this book on my Instagram.
On my way to bed, I play with a tiger, a lobster and a bear – and lots of other creatures too. But why are they so familiar? In this celebration of imaginative play, a young child is surrounded and enriched by an extended and diverse family. Inclusive and playful, this is the ideal bedtime read. One review says the main character wears hearing aids, but hearing loss is not discussed in this book.
Is Little Bear ignoring his friends when they say hi, or is something else going on? A discovery opens new doors in a tale that will delight kids with deafness and all children learning to navigate their world.
Little Bear feels the world around him. He feels his bed rumble when Dad Bear wakes him up in the morning. He feels the floor shake when his teacher stomps to get his attention. But something else is missing, like when his friends tell jokes that he isn't sure he understands, or when all around him Little Bear hears the question, "Can bears ski?" Then, one day, Dad Bear takes him to see an "aud-i-olo-gist," and Little Bear learns that he has been experiencing deafness and will start wearing hearing aids. Soon he figures out what that puzzling refrain is: "Can you hear me?" Little Bear's new world is LOUD and will take some getting used to, but with the love and support of Dad Bear, he will find his way. In this lyrical picture book, award-winning creators Raymond Antrobus and Polly Dunbar draw on their own experiences to tell Bear's story.
Dachy wears a hearing aid. But sometimes, when his friends get too noisy, he likes to turn it off to get some peace and quiet. One day, when his hearing aid is off, Dachy falls asleep and ends up floating down the river towards a waterfall and a hungry crocodile. Can his friends rescue him in time? Read and approved by The National Deaf Children's Society, this gentle story shows children that everyone is different and might have difficult situations to deal with, but with love and support they can get through anything.
Early one morning, a young boy wakes to the light of his alarm clock. He puts on his hearing aids and clothes, then goes to wake his father. Together they brave the cold as they walk down the dirt road that leads to the beach. Lakin's understated story reminds readers that sometimes the best way to communicate doesn't involve words, while Steele's watercolor illustrations show that beauty is never far away.
Rian is starting her sixth-grade year in a new home and at a new school in Northeast Philadelphia. On her first day, she is greeted by Shack, the class bully, who wastes no time breaking one of her cochlear implants. She's used to feeling like an outsider, but nothing could prepare her for life at John Hancock Elementary. Her teachers can't pronounce her name, the "normal" kids think she's Deaf and the Deaf kids think she's a joke. deaf not Deaf is a story about an unlikely friendship between Rian and Luis, two twelve-year-old sixth-graders who break down communication barriers and learn to understand deafness in very different ways. Linked by their common enemy, Rian, Luis and their group of misfit friends hatch a plan to get revenge on Shack once and for all…but will their ghoulish plan be an epic success or come back to haunt them in the end?
[I own this one and read it myself and it's FANTASTIC. The book is in English. Cece gets Meningitis and loses all of her hearing. She goes to get a hearing test, gets hearing aids, and gets fitted with a body-worn FM system to wear at school. Even though the devices are outdated the story and the humor and feelings are spot on! Get this book!!!]
A 2015 Newbery Honor Book Going to school and making new friends can be tough. But going to school and making new friends while wearing a bulky hearing aid strapped to your chest? That requires superpowers! In this funny, poignant graphic novel memoir, author/illustrator Cece Bell chronicles her hearing loss at a young age and her subsequent experiences with the Phonic Ear, a very powerful—and very awkward—hearing aid.

The Phonic Ear gives Cece the ability to hear—sometimes things she shouldn't—but also isolates her from her classmates. She really just wants to fit in and find a true friend, someone who appreciates her as she is. After some trouble, she is finally able to harness the power of the Phonic Ear and become "El Deafo, Listener for All." And more importantly, declare a place for herself in the world and find the friend she's longed for.
In this first book of her series, catching waves on her board, Joss is all in, 100%. When the surf's up, she pops out her hearing aid, hops on her board, and paddles into the waves. Joss is stoked to enter a surfing video contest with her surf sister Sofia and Murph the surfing bulldog. If she can master a killer aerial like the frontside air and get her brother Dylan to catch it on video, maybe she'd even have a shot at winning. But Dylan throws her a curve: he dares her to try out for the cheer team. No way — Joss can't see herself as a cheerleader. (What's with those ginormous hair bows, anyway?) She's 100% surfer girl, and Dylan knows it! Still, if she takes him up on his dare, then maybe he'll help her with her video . . . it's worth a try, right?
In the second book in her series: Joss Kendrick is always looking for new ways to soar. So when her cheer team needs a new flyer, she can't wait to step up (literally). Her high-flying skills on her surfboard and skateboard make her a natural for the role. But when her skateboarding act at the talent show turns into a total catastrophe — make that a dogtastrophe — Joss loses her confidence all around, even at the cheer gym. The cheer competition is coming up fast, though, and her team is depending on her to nail a tricky stunt. The problem is, Joss doesn't trust them not to drop her. She wants to do an easier stunt, but if she plays it safe, can her team still win? And if they don't, will her team ever forgive her?
Just an Otter Day is written by my friend DHH teacher Stephanie Mae Green. It is the first in a series about a DHH Otter named Ollie. Ollie wears hearing aids in this first book and the description shares that in the future he will receive a cochlear implant and learn to listen and speak.
This is a day in the life of Ollie and includes lots of rhyming, verbs, and adjectives which I'm sure are to help teachers and therapists build on children's vocabularies. I LOVE the illustrations in this book- so cute! Can't wait for the next one!
Meet Maya, a spunky girl from India who has profound hearing loss and wears cochlear implants. Meet Sid, Maya's new friend who loves learning about anything and everything! Find out how they became friends. Learn cool facts about ears, the brain, sounds, and more! Join Maya and Sid on their first adventure! All proceeds from the book go directly into Listening Together, so we can continue to empower families, educate professionals, and engage communities!
Mickey is a 6th grader with hearing loss at a new school. His mom gets a call that he's been eating lunch in the library. It turns out the cafeteria is too noisy and he can't hear his friends. They do some brainstorming and decide to sit Mickey and his friends in a quieter spot and give them special permission to go to the library to chat once they're done eating. Hit pause to read the pages 😊 This book was gifted to me by the publisher.
I'm sure Mickey's mom is an amazing person and she wrote this very sweet book which talks about an important subject- listening in background noise when you have hearing loss. This is one of the strangest books about a kid with hearing loss I've ever seen though because of the illustrations- he does not appear to be wearing his cochlear implant in a single picture. They talk about his CI, but you can't see it! If you write a book for kids about hearing loss and hearing devices, then showing the kid wearing the HA or CI is one of the most important parts!! Kids that wear CIs almost never see themselves in media (books, tv, movies) and books like this are the one chance they can see a kid like them. I'm sure the AVTs and SLPs out there can agree that this book is missing a critical element that could make it GREAT for this age group.
Born with hearing loss, nothing will steal his joy. Full of smiles and hope, everything in Adrion's world makes him happy. Explore with him as he gives you a glimpse of how he enjoys the simple things in life and learn why he calls his ears happy!
The Doc has to help train the new recruit and help him discover his Superhero Power. Book written in honor of our son who was born premature and the obstacles he has overcome. The main character wears 2 blue hearing aids.
Ranvir Cannot Hear is a magical story set in the plains of India and is about a little elephant who goes on a long journey in search of his hearing. On his travels he meets some wonderful friends along the way who can't do certain things but tell him about the things that they can! Ranvir even finds out he has a special talent too… This is a beautifully illustrated children's story with a message of inclusion and empowerment. Learn to find out what you can do and don't worry about what you can't. 10p of every book will be donated to the Rangammal school in India for children with a hearing impairment. Recommended for children up to 7 years old. British and American sign language alphabets are included in the back – teach your little one to sign their name!
In this story, Reena is deaf, and Dog is homeless, but they are also so much more than that. At first Reena and Dog feel like they don't belong, but when they form a unique bond of friendship with the children in the park, they discover that everyone is different in their own special ways. Reena's Rainbow is about friendship, diversity, and acceptance. It sends the message that true friends will always accept your differences and love you just the way you are.
Deaf author Ann Clare LeZotte weaves a riveting Own Voices story inspired by the true history of a thriving deaf community on Martha's Vineyard in the early 19th century. This piercing exploration of ableism, racism, and colonialism answers the call to dig deep, examine core beliefs, and question what is considered normal.
Mary Lambert has always felt safe and protected on her beloved island of Martha's Vineyard. Her great-great-grandfather was an early English settler and the first deaf islander. Now, over a hundred years later, many people there — including Mary — are deaf, and nearly everyone can communicate in sign language. Mary has never felt isolated. She is proud of her lineage.
But recent events have delivered winds of change. Mary's brother died, leaving her family shattered. Tensions over land disputes are mounting between English settlers and the Wampanoag people. And a cunning young scientist has arrived, hoping to discover the origin of the island's prevalent deafness. His maniacal drive to find answers soon renders Mary a "live specimen" in a cruel experiment. Her struggle to save herself is at the core of this penetrating and poignant novel that probes our perceptions of ability and disability.
Shayla, Miss GA Teen USA 2020 was diagnosed with hearing loss when she was 3 years old. This news was life changing. She never let her hearing impairment dictate what she is capable of achieving. From a review: This book tells the story of Shayla, a girl with a hearing disability, who endures bullying and exclusion. She finds her strength in modeling and beauty contests and adopts the cause of #spreading the love to combat the real life issues of being excluded for being different. Her accomplishments continue to grow and as they do, her message grows too. A very special story of relying on your strengths to overcome.
All William Ellsworth Hoy wanted to do was play baseball. After losing out on a spot on the local deaf team, William practiced even harder―eventually earning a position on a professional team. But his struggle was far from over. In addition to the prejudice Hoy faced, he could not hear the umpires' calls. One day he asked the umpire to use hand signals: strike, ball, out. That day he not only got on base but also changed the way the game was played forever. William "Dummy" Hoy became one of the greatest and most beloved players of his time!
Jilly thinks she's figured out how life works. But when her sister, Emma, is born deaf, she realizes how much she still has to learn. The world is going to treat Jilly, who is white and hearing, differently from Emma,
just as it will treat them both differently from their Black cousins.
A big fantasy reader, Jilly makes a connection online with
another fantasy fan, Derek, who is a Deaf, Black ASL user. She goes to Derek for help with Emma but doesn't always know the best way or time to ask for it.
Books About Unilateral Hearing Loss/Hearing Loss in 1 Ear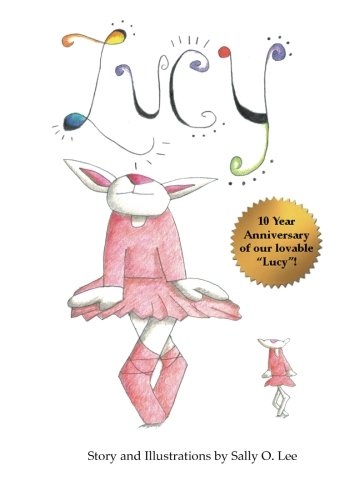 We journey with a quiet bunny, Lucy, as she discovers that she cannot hear in one ear. She visits the doctor, eats ice cream with her father, skates, draws, and dresses up for a masquerade ball.
Books About Microtia & Atresia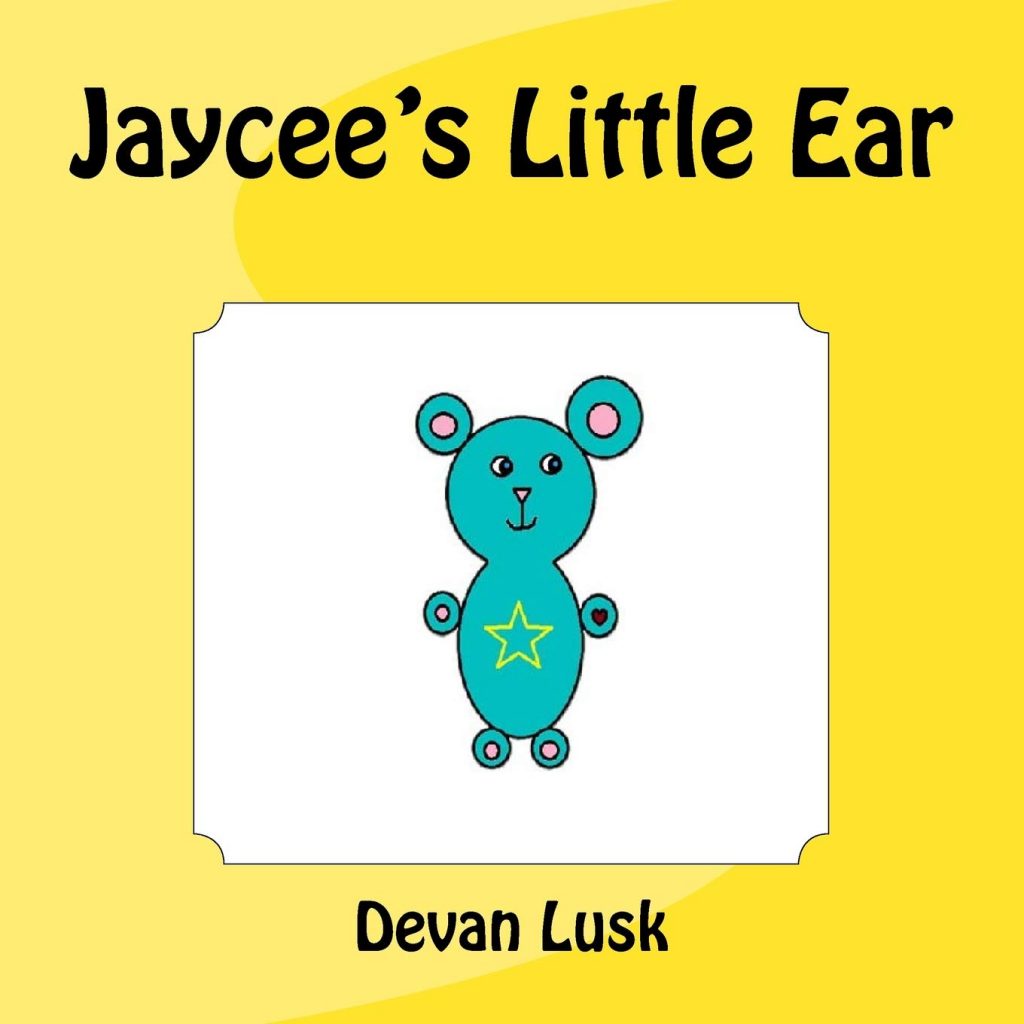 This story is about a little girl coming to terms with her condition called Microtia (A small Ear). Will Jaycee learn to love and embrace her condition or will she go on wishing she was never born with a little ear?
Having a baby is the most precious, rewarding and amazing event in anyone's life, and everyone wants a perfect healthy baby. So imagine how it feels when your baby is born and the first thing you notice is that it has one small abnormal ear or even both ears are affected. This is what my daughter and her husband faced when Sophie was born in December 2010. Their first thoughts were how could this possibly happen. Is she deaf? Is there anything else wrong with her? No-one could answer these questions. The midwife said she had only seen it once before but had no idea what it was. Fiona and Colin felt totally alone and their family was devastated for them. At first the doctors were vague but soon were able to tell us it was a condition called Microtia. As we struggled to come to terms with what was happening we soon realised there was very little information anywhere to help us understand what this condition meant for Sophie now and in the future. Yes there were bits and pieces here and there but nothing that would tell us exactly what it was, what to expect, how to get help and how to deal with it. So I was inspired to write this book covering the first 5 years of Sophie's life; being honest and telling it how it was, facing the ups and downs and realising it wasn't as daunting as it seemed! My daughter and her husband have been very lucky from the onset, getting help from many sources both medical and otherwise. But we soon discovered through social media and talking to parents in similar situations that this was not always the case. Some families just don't know where to turn and how to deal with microtia. This book is not just a personal story of a child, it also contains information on microtia, how to get help, surgeons' opinions etc. So I hope through reading Sophie's Little Adventure it will help all parents of children with microtia and any adults out there with microtia who have had very little help and understanding on how to deal with this little-known condition.
Books With BAHAs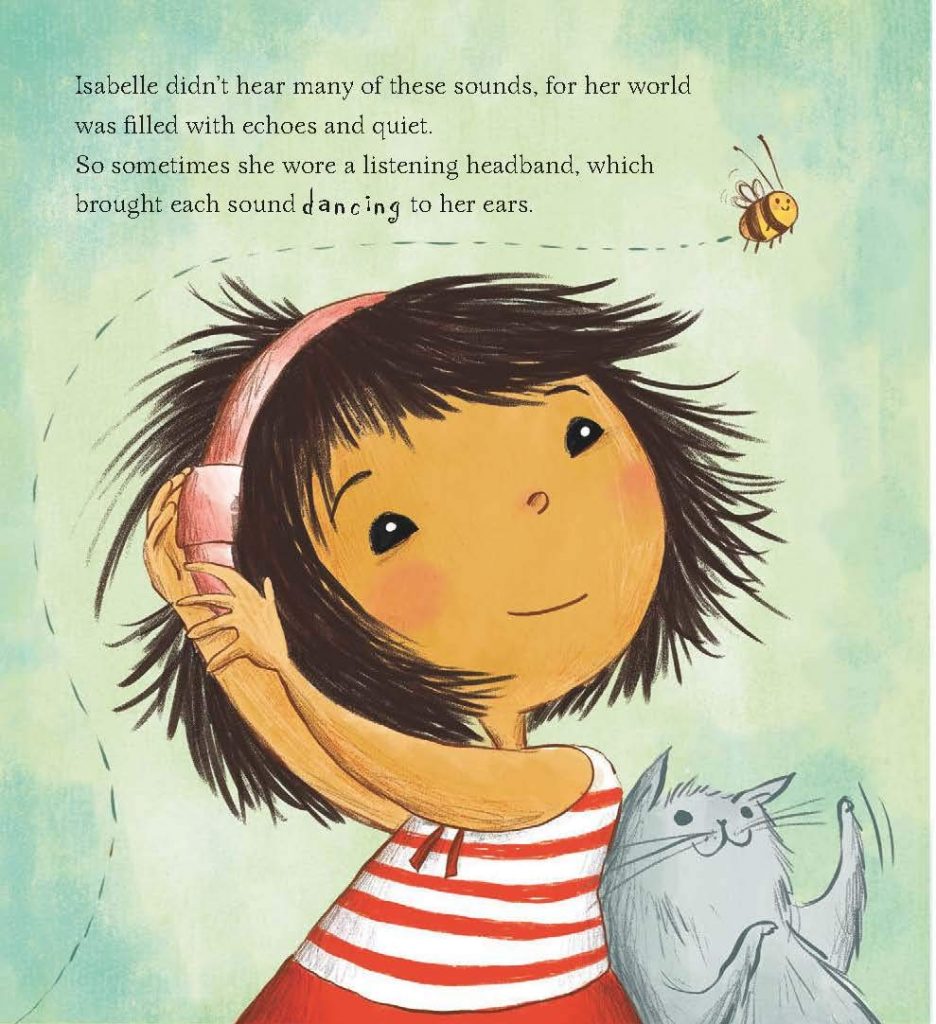 When Isabelle meets a lovely fairy called Summer-Blue, she discovers a magical world, hidden in the woods at the bottom of her garden. She can't wait to share what she's learned with her family, but her sister and brothers don't believe in fairies, and they don't believe Isabelle! As a deaf child Isabelle can see and sense things that her family can't. Her hearing aid helps her to understand their world – but how can she persuade them to step into hers? An enchanting picture book about fairies, friendship and family, by CBeebies presenter Cerrie Burnell, illustrated by Laura Ellen Anderson. The main character wears a BAHA hearing aid on a softband.
Join 14 spunky rocks (and their wise ladybug friend) on a fun and funny adventure about the importance of friendship and the power of perseverance.
When the rocks get together to play and roll around their favorite hill, they find that one of their friends, Ricky, can't roll with them. Unlike all of the others, who are all round, Ricky can't roll because he's flat on one side.
His friends didn't get it,
"Come Roll!" they would chant.
So Ricky tried, but replied,
"I'm sorry, I can't."
Determined not to leave their friend behind, the rock friend set out to help Ricky roll around – one way or another.
From the best-selling author of Tess, the Tin that Wanted to Rock, The Bear and the Fern and The Masterpiece comes this fun, funny and heartwarming that is loved by kids, parents and teachers alike.
Combining the spirit of The Giving Tree with the rhyme and rhythm of Dr. Seuss, Ricky, the Rock,/I> is ideal for children ages 3-8 and Pre K-3rd grade. This original story featuring the "You Rock Group" is a book that kids are sure to cherish as they grow, and ask to read over and over again!
Kids ages: 3, 4, 5, 6, 7 and 8
Grades: Pre K, 1st, 2nd and 3rd
The illustrations include a 'rock' called Leesie wearing a BAHA on a light pink soft band.
I'm so glad you came by. My name is Billie. I'm four years old and I am also Hard of Hearing. I have bilateral hearing loss due to Microtia. Microtia is a congenital condition of a little or missing outer ear. I wear my BAHA to be able to hear the world around me.
I go to a school with all my other friends that are also Deaf or Hard of Hearing, but they don't all wear BAHAs to hear like me. Some of my friends wear behind the ear hearing aids or cochlear implants. I even have one friend that does not wear anything to hear, but we all have one thing in common….we are all SUPER HEARo's!
My superpowers are kindness and acceptance. Together we will discover communication repair strategies, self-advocacy, and how to bring everyone's differences together! 
Books About Being Deaf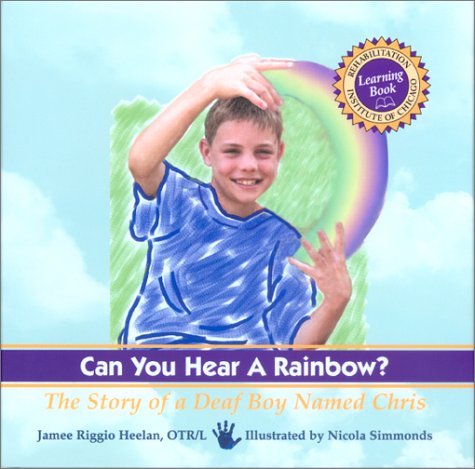 Kindergarten-Grade 3-Chris, who's about 10 years old, explains how he uses sign language, hearing aids, lip reading, and other visual clues to compensate for his condition. He compares himself to both a hearing friend and a deaf one, pointing out similarities and differences
Duke the Deaf Dog learns that some noises are loud and some are quiet. Whether it's a tapping crayon, a beeping fire drill, or a crinkly candy wrapper, both parents and children alike will understand the need to know the difference between noises. A fun, engaging way to teach children that some noises are not polite. Bonus American Sign Language material included with every purchase: Learn 12 ASL signs within the story. Learn Rules of Etiquette in Deaf Communities. Watch the Deaf Culture lesson, vocabulary words, and the complete story signed on video using the link provided in the book. Watch a deaf parent sign the Farts Make Noise story on video using the link provided in the book.
Titles in the Live and Learn series take a child's point of view–especially the view of children who either suffer from some physical challenge or lack self-confidence in going about their everyday activities. This book describes challenges that hearing-impaired children face, and how one child overcomes them to live a normal, happy life. This attractively illustrated picture storybook series encourages kids to understand themselves and overcome problems that have troubled them. Following each story are four pages of suggested activities that relate to the book's theme. A final two-page section offers advice to parents.
A young deaf child who loves to run and jump and play is affectionately described by her older sister. 'Can give young children an understanding of the fact that deaf children . . . share all the interests of children with normal hearing.
My Deaf Friend Can Do Anything You Can Do is an African American children's book for all ages that celebrates tolerance and acceptance. This story features a young deaf girl and her hearing friend who convey a tale about the misunderstandings of people who are deaf or hard of hearing. This book helps readers to clearly understand that deaf people can do the same tasks that others can do. In essence, My Deaf Friend Can Do Anything You Can Do helps to bridge the gap between the deaf and hearing community by giving a better, more accurate understanding of a deaf person's life, abilities, and talents. Besides, this story also highlights aspects of bullying and promotes empathy for all. Throughout this book readers will notice different sign language signs as they read. This book encourages others to learn sign language and open their minds and hearts to the beauty of diversity!
Duke the deaf dog does not like it when he's told "never mind."
Whether it happens at preschool or the park, both parents and children will relate to feeling left out when you aren't part of the action. A great way to teach children that everyone deserves to be included in conversations.
Bonus American Sign Language material inside:
Learn 10 ASL signs within the story.
Learn 5 ASL concepts for the English words never mind.
Watch the ASL lesson, vocabulary words, and the complete story signed on video using the link provided in the book.
Watch a deaf parent sign the Never Mind story on video using the link provided in the book.
Ava is like any other 7-year-old. She likes to talk and laugh with her friends, is obsessed with dogs and loves being active. Ava is also deaf – and she's proud of it. She loves her deaf community, that she's bilingual, and that she experiences the world differently from hearing people.
In this book, Ava welcomes her hearing peers to her daily life, the way technology helps her navigate the world and explains common misconceptions about deaf people – and introduces some of her deaf heroes who have achieved amazing things. She talks about her experiences at school making friends with hearing children, and teaches readers the BSL alphabet and some BSL phrases.
Featuring photos of Ava, her friends and family throughout, plus illustrations of hand signs, this book celebrates deafness rather than discussing 'overcoming challenges' or 'stigma'. Perfect for readers aged 5 and upwards.
Text and photographs describe kids who are deaf, the ways they communicate, and some of their everyday activities.
Books About Deaf Characters

[Review from @NotDumbBooks on Instagram] This was a surprisingly cute book! This is about Frankie, a little deaf girl, whose mom is expecting a baby. Frankie is SO excited and talks and signs with her cute hearing friends about the new baby. But then she starts to worry that her mom might love the baby more than her because it will be able to hear.
This book does such a good job of normalizing deafness and portraying deaf children as the normal children they are. This story is mostly about expecting a new sister, and the main character just happens to be deaf. I love when books do that. Especially impressed that this book was written in the 80's and does such a good job.
Realistic and involving, YAs will identify with Gustie and her wish to belong; the book should touch them and be popular. School Library Journal Gustie Blaine is 15 when she contracts meningitis and loses her hearing as a result. After struggling to adjust, she learns through her new boyfriend and his deaf brother about other deaf people and how they succeed.
There are so many stories out there about deaf and hard of hearing children that involve them having a hard time hearing, going to the audiologist and getting hearing aids or a cochlear implant, and then hearing better.
How refreshing to have A wonderful fantasy story about a little boy who gets involved in a war between a dragon and a king and his knights in shining armor and the boy just happens to be Deaf!
This book will appeal to children no matter what their hearing levels are! The pictures are beautifully drawn and the main character is endearing.
In 1943, the Second World War is raging, and the Nazis have taken control of most of Europe.
Princess Alice of Greece has a reputation for kindness. Born deaf, she knows what it is like to be discriminated against.
With the invasion of the Nazis, all Jews in Greece are in danger, including young Tilde Cohen and her mother, Rachel. On the run, they are in search of a safe place to hide. When they arrive unannounced on Princess Alice's doorstep, begging her to shelter them, the princess's kindness is put to the test.
Includes a special section, with photographs, about Princess Alice. A real-life hero, Alice is the grandmother of the United Kingdom's Prince Charles, and the great-grandmother of Princes William and Harry.
Charlie's parents have left him (again). This time they are off to South Africa to help giant golden moles. And Charlie? He's been dumped with his TV-obsessed grandparents. Lonely and curious, Charlie heads into the village of Castle-on-the-Hudson, where a frightened old woman gives him a desperate message-in sign language. When she suddenly disappears, Charlie is determined to find answers.
All Francine (aka Frog) Castle wants is to be the world's greatest detective.
Frog, who is Deaf, would rather be solving crimes than working at the Flying Hands Cafe . When Charlie Tickler walks into the cafe looking for help, Frog jumps at the chance to tackle a real-life case.
Together, Charlie and Frog set out to decipher a series of clues and uncover the truth behind the missing woman's mysterious message. Charlie needs to learn American Sign Language (fast) to keep up with quick-witted Frog. And Frog needs to gather her detective know-how (now) to break the case before it's too late.
Miranda is deaf and her closest friend Timothy has disappeared at sea. Without him, communication is difficult, often embarrassing, sometimes impossible. Miranda is left alone, alienated, and unsure of herself. Thrown into the company of Boone, a neighbor who helps her aunt keep up the yard, Miranda struggles with her loyalty to Timothy and her desperate need for someone who accepts her on her own terms, as Timothy did. When she and Boone discover they are having the same dreams about a mysterious island and an even more mysterious presence, Miranda must choose between the ideal world Timothy represented and the confusion and pain of the hearing world, opening herself to the risky, awkward relationships that it offers.
Deaf Cinderella," adapted from a classic fairy tale with a Deaf twist by Adonia K. Smith and illustrated by Maureen Klusza tells the story in both spoken American Sign Language, presented by Jenna Smith, and printed English of a young Deaf woman called Deaf Cinderella who speaks in American Sign Language, grew up in a Deaf school, and is a proud part of the American Deaf culture. Children of all ages will enjoy reading this timeless fairy tale and learning about the unique world Deaf Cinderella lives in. Stamped with the ASL Rose Bilingual Seal, showing that the information is presented in spoken ASL and written English, the book includes 60 pages of illustrations, English text, and a QR code for purchasers to view the tale in ASL. Bonus: Special webpage linked to the book has more information, including sample lesson plans.
Readers are transported into the enchanting world of fairy tales in this book — with one slight twist: all the stories have characters who are Deaf or sign. Designed for the reader who uses American Sign Language or wants to learn about sign language and Deaf culture, each story takes unexpected and fun turns, always with a lesson in mind. Classics in this book include Snow White, Hansel and Gretel, Three Little Pigs, Beauty and the Beast, and many others. Also included are signed songs and poems one can play with in sign language. Original illustrations help make the stories come alive. With such magnificent culture, history, morals, humor, and imagination, this marvelous book will delight readers of all ages.
Poor Lee! He used to be a jazzman who could make the piano go yimbatimba- TANG—zang-zang. But now he's lost his hearing, and the bandleader had to let him go.
So Lee goes to a school for the deaf to learn sign language. There, he meets Max, who used to play the sax. Riding the subway to class, they start signing about all the songs they love. A bass player named Rose joins in and soon they've got a little sign language band. And in no time they're performing for audiences in the subway, night after night.
Living legend and Kennedy Center honoree Pete Seeger, renowned poet Paul DuBois Jacobs, and Coretta Scott King honor winner R. Gregory Christie present a jazzy riff on the power of music, overcoming obstacles, and all the different ways to hear the world. So, who will listen to a deaf musician? Everyone!
Piper is a seventeen-year-old high school senior, and she's just been challenged to get her school's super-popular rock band, Dumb, a paying gig. The catch? Piper is deaf. Can she manage a band with five wildly different musicians, nurture a budding romance, and discover her own inner rock star, though she can't hear Dumb's music?
Just before the start of a new trek, a Sherpa family discovers that their yaks are missing. Young Kami, anxious to help his brother and father maintain their livelihood, sets off by himself to find the wandering herd. A spunky deaf child who is unable to speak, Kami attempts to summon the yaks with his shrill whistle. Failing to rout them, he hustles up the steep mountainside to search the yaks' favorite grazing spots. On the way he encounters the rumblings of a fierce storm which quickly becomes more threatening. Surmounting his fear of being alone in the midst of treacherous lightning and hail, Kami uses his heightened sense of observation to finally locate the yaks. Reunited with their animals, the astonished family is once again able to transport their gear and guide the mountain climbers into the majestic terrain.
Moses and his school friends are deaf, but like most children, they have a lot to say. They communicate in American Sigh Language, using visual signs and facial expressions. This is called signing. And even though they can't hear, they can enjoy many activities through their other senses. Today, Moses and his classmates are going to a concert. Their teacher, Mr. Samuels, has two surprises in store for them, to make this particular concert a special event.
Isaac Millman tells Moses's story in pictures and written English, and in American Sign Language (ASL), introducing hearing children to the signs for some of the key words and ideas. At the end of the book are two full conversations in sign language and a page showing the hand alphabet.
Moses goes to a special school, a public school for the deaf. He and all of his classmates are deaf or hard-of-hearing, but that doesn't mean they don't have a lot to say to each other! They communicate in American Sign Language (ASL), using visual signs and facial expressions. Isaac Millman follows Moses through a school day, telling the story in pictures and written English, and in ASL, introducing hearing children to the signs for some of the key words and ideas. At the end is a favorite song — "Take Me Out to the Ball Game" — in sign!
Megan has spent forever planning her positively purple birthday sleepover. She's even made glittery purple invitations for every girl in her class. Then a new girl, Alexis Powell, joins their class. Alexis seems perfect: She's smart, pretty, and rules the soccer games on the playground. But no matter how hard Megan tries to be a friend to Alexis, the new girl is aloof or rude. At first Megan thinks Alexis is shy. Then Megan starts to fear that Alexis is treating her differently because she's deaf. When the girls are forced to collaborate on a science fair project, Megan learns the truth — and realizes that nobody's perfect.
Once again Marlee Matlin draws on experiences from her own childhood to tell Megan's story. In this funny, poignant book, readers will root for Megan, a spirited young girl who doesn't let anything stand in her way.
"As a boy, my father learned to speak with his hands. As a man, he learned how to turn lead-type letters into words and sentences. My father loved being a printer."
Each day in 1940s New York a young boy watches as his father goes to work in the noisy newspaper printing factory. But the boy's father only feels the machines' loud pounding and rumbling as vibrations through the soles of his shoes. He is deaf. Although his father communicates with a few other deaf printers through his hands, he feels largely ignored by his hearing co-workers. But when a silent deadly fire erupts, it is up to the father to warn and save his coworkers, even when they cannot hear him over the printers.
Myron Uhlberg draws on his own experiences as the hearing son of deaf parents to create this dramatic, evocative story that reflects a respect for deaf culture and the unique gifts each individual possesses. Historical details are deftly rendered and brought to life in Henri Sørenson's extraordinary paintings that dramatize and illuminate the powerful text.
Gr 7 Up—Moving halfway across the country and changing schools senior year would be hard enough for anyone, but for Maya, moving from a Deaf school to a hearing school is one adjustment too many. At her Deaf school, people didn't stare or shout at her, and all the misconceptions about the Deaf didn't rear their ugly heads whenever she was signing to her interpreter or trying to lip-read. And then there's Beau, who makes it his mission to learn to sign to her the first day of school. Maya assumes he's one of the "populars" who only feels sorry for her and is trying to make himself look good. Besides, Maya doesn't have time to make new friends. She is focused on getting into a good respiratory therapy program in college so she can help people like her little brother Connor, who has cystic fibrosis. Can Maya let go and trust someone to care about her just as she is? Gervais has written a captivating novel that sheds light on how hearing and Deaf cultures make assumptions about each other or are stereotyped, woven into a teen love story. American Sign Language is utilized throughout the book, with Maya's thoughts and words easily discernible. Teens will relate to the issues of parental influence, peer pressures, and first loves, but also revealed is a deeper understanding of what it means to be different in a world where sameness is the standard. VERDICT A solid addition to middle/high school fiction that allows for deep discussion about stereotypes concerning disabilities.
A unique and much-needed collection, The Smart Princess takes readers inside the fantasies, dreams and disappointments of young people who are deaf. This book is written and illustrated by winners of the Ladder Awards, organized by the Canadian Cultural Society of the Deaf. In one tale a princess runs away when her intolerant aunt forbids her to sign. Another story looks at the experience of being a deaf child at a hearing school. Two strangers, one giant and one tiny, become friends despite their difficulties in seeing each other. In another, a spaceship lands on a planet of the Deaf, forcing hearing astronauts to reconsider their ways. And in a poetic adventure, an imaginary tiger wreaks havoc.
In the spirit of modern-day classics like Fish in a Tree and Counting by 7s comes the story of a deaf girl's connection to a whale whose song can't be heard by his species, and the journey she takes to help him.
From fixing the class computer to repairing old radios, twelve-year-old Iris is a tech genius. But she's the only deaf person in her school, so people often treat her like she's not very smart. If you've ever felt like no one was listening to you, then you know how hard that can be.
When she learns about Blue 55, a real whale who is unable to speak to other whales, Iris understands how he must feel. Then she has an idea: she should invent a way to "sing" to him! But he's three thousand miles away. How will she play her song for him?
Full of heart and poignancy, this affecting story by sign language interpreter Lynne Kelly shows how a little determination can make big waves.
Experience the sights and sounds of 1930s Brooklyn and Coney Island through the eyes―and ears―of a hearing boy and his deaf parents.
A Brooklyn family takes an outing to Coney Island, where they enjoy the rides, the food, and the sights. The father longs to know how everything sounds. Though his son does his best to interpret their noisy surroundings through sign language, he struggles to convey the subtle differences between the "loud" of the ocean and the "loud" of a roller coaster. When the family drops in at the library after dinner, the boy makes a discovery. Perhaps the words he needs are within reach, after all.
Myron Uhlberg's story, based on his own childhood experiences, covers the almost unique topic within children's books of children raised by deaf parents. Ted Papoulas beautifully and sensitively portrays the family's day to bring the whole experience to life for readers.
Books About Using Sign Language
A mother and daughter spend a sunny day at the beach together where they swim, dance, build sandcastles, and, most importantly, communicate. But their communication is not spoken; rather, it is created by loving hands that use American Sign Language.
Readers will learn how to sign 15 words using American Sign Language with the help of sidebars that are both instructive and playful. And the beautifully illustrated beach scenes will appeal both to the deaf community and to hearing parents and children, who will enjoy this gentle introduction to some basic words in ASL. Hands & Hearts is a picture book unlike any other, revealing the special bond between mother and child.
Hurt Go Happy is a captivating novel for young readers by beloved author Ginny Rorby. The Schneider Family Book Award-winning novel is inspired by the true story of a chimpanzee raised as a human.
Thirteen-year-old Joey Willis is used to being left out of conversations. Though she's been deaf since the age of six, Joey's mother has never allowed her to learn sign language. She strains to read the lips of those around her and often fails.
Everything changes when Joey meets Dr. Charles Mansell and his baby chimpanzee, Sukari. Her new friends use sign language to communicate, and Joey secretly begins to learn to sign. Spending time with Charlie and Sukari, Joey has never been happier. But as Joey's world blooms with possibilities, Charlie's and Sukari's choices begin to narrow―until Sukari's very survival is in doubt.
Hurt Go Happy is the unforgettable story of one girl's determination to save the life of a fellow creature―one who has the ability to ask for help.
Hurt Go Happy is the winner of the Schneider Family Book Award. It's also an International Literacy Association Teachers' Choices selection, a Book Sense Children's Pick, a KLIATT Editor's Choice: Best of the Year's Hardcover YA Fiction selection, and a New York Public Library "Books for the Teen Age" selection.
Jessi knows a secret language! She learned it from Matt Braddock, the BSC's newest charge. Matt's been deaf since birth, and he uses sign language to speak. Since Jessi is Matt's baby-sitter, she's been using sign language, too.
A classic children's story book that incorporates Auslan (Australian Sign Language) to make a truly inclusive book for families with deaf, hard of hearing and non verbal members.
A Visit To The Zoo is a story about Hannah, a little girl like any other, who wears a hearing aid and uses Auslan to communicate with her mum as they make their way around the zoo. Each page includes the typical written story and illustrations as well as the associated Auslan signs, meaning you can choose to read or sign your way from start to finish. There's also a handy gallery of all the signs at the back of the book, perfect for practice after reading the book.
This is a fantastic introduction to the world of Auslan for both the hearing and deaf communities and another big step in ensuring every child sees themselves represented in books and the wider world.
Books For Adults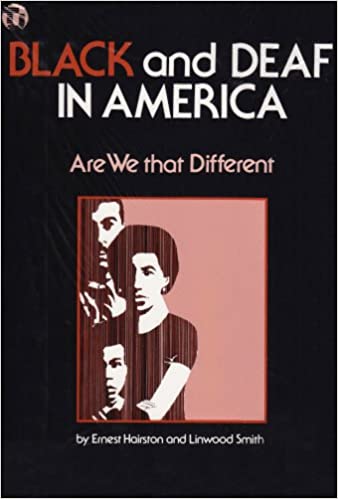 From the Foreword of this 91 page book: "Being both Black and deaf is in many ways a 'double whammy' because of society's abrogation of each of these two minorities. When the conditions of Blackness and deafness are combined in one person, the individual effects of prejudice, discrimination, and negative self-image are compounded exponentially. For example, a disproportionate percent of Black deaf youth are educated in urban schools where the programs are often unbelievably bad. In many of these schools, the Black child is mainstreamed with few, if any, supportive services, or else he is placed in classes with retarded children or those having other disabilities totally unrelated to his own. The results are devastating. The ramifications of deafness, the lack of sufficient Black role models, and the overall racial situation in the schools deprive Black deaf youth of the strong sense of racial pride many normally hearing Black youth have. This, added to the educational deprivation and the communication difficulties which are inheritance in deafness, leaves the problems of Black deaf people desperately in need of the attention Mr. Hairston's and Mr. Smith's book gives them. Both authors are Black and deaf themselves and know intimately of the experiences and needs of which they write. In the pages which follow, they unfold a story large in human terms, if small relative to the numbers of the people involved."
At just a few months old, Zoe was gradually losing her hearing. Her adoptive parents loved her—yet agonized—feeling they couldn't handle raising a Deaf child. Would Zoe go back into the welfare system and spend her childhood hoping to find parents willing to adopt her? Or, would she be the long-sought answer to a mother's prayers?
Brandi Rarus was just 6 when spinal meningitis took away her hearing. Because she spoke well and easily adjusted to lip reading, she was mainstreamed in school and socialized primarily in the hearing community. Brandi was a popular, happy teen, but being fully part of every conversation was an ongoing struggle. She felt caught between two worlds—the Deaf and the hearing.
In college, Brandi embraced Deaf Culture along with the joys of complete and effortless communication with her peers. Brandi went on to become Miss Deaf America in 1988 and served as a spokesperson for her community. It was during her tenure as Miss Deaf America that Brandi met Tim, a leader of the Gallaudet Uprising in support of selecting the university's first Deaf president. The two went on to marry and had three hearing boys—the first non-deaf children born in Tim's family in 125 years.
Brandi was incredibly grateful to have her three wonderful sons, but couldn't shake the feeling something was missing. She didn't know that Zoe, a six-month-old Deaf baby girl caught in the foster care system, was desperately in need of a family unafraid of her different needs. Brandi found the answer to her prayers when fate brought her new adopted daughter into her life.
Set against the backdrop of Deaf America, Finding Zoe is an uplifting story of hope, adoption, and everyday miracles.
Police found John Doe No. 24 in the early morning hours of October 11, 1945, in Jacksonville, Illinois. Unable to communicate, the deaf and mute teenager was labeled "feeble minded" and sentenced by a judge to the nightmarish jumble of the Lincoln State School and Colony in Jacksonville. He remained in the Illinois mental health care system for over thirty years and died at the Sharon Oaks Nursing Home in Peoria on November 28, 1993.
Deaf, mute, and later blind, the young black man survived institutionalized hell: beatings, hunger, overcrowding, and the dehumanizing treatment that characterized state institutions through the 1950s. In spite of his environment, he made friends, took on responsibilities, and developed a sense of humor. People who knew him found him remarkable.
Award-winning journalist Dave Bakke reconstructs the life of John Doe No. 24 through research into a half-century of the state mental health system, personal interviews with people who knew him at various points during his life, and sixteen black-and-white illustrations. After reading a story about John Doe in the New York Times, acclaimed singer-songwriter Mary Chapin Carpenter wrote and recorded "John Doe No. 24" and purchased a headstone for his unmarked grave. She contributes a foreword to this book.
As death approached for the man known only as John Doe No. 24, his one-time nurse Donna Romine reflected sadly on his mystery. "Ah, well," she said, "God knows his name."
The incredible life story of Haben Girma, the first Deafblind graduate of Harvard Law School, and her amazing journey from isolation to the world stage. Haben grew up spending summers with her family in the enchanting Eritrean city of Asmara. There, she discovered courage as she faced off against a bull she couldn't see, and found in herself an abiding strength as she absorbed her parents' harrowing experiences during Eritrea's thirty-year war with Ethiopia. Their refugee story inspired her to embark on a quest for knowledge, traveling the world in search of the secret to belonging. She explored numerous fascinating places, including Mali, where she helped build a school under the scorching Saharan sun. Her many adventures over the years range from the hair-raising to the hilarious.
Haben defines disability as an opportunity for innovation. She learned non-visual techniques for everything from dancing salsa to handling an electric saw. She developed a text-to-braille communication system that created an exciting new way to connect with people. Haben pioneered her way through obstacles, graduated from Harvard Law, and now uses her talents to advocate for people with disabilities.
Haben takes readers through a thrilling game of blind hide-and-seek in Louisiana, a treacherous climb up an iceberg in Alaska, and a magical moment with President Obama at The White House. Warm, funny, thoughtful, and uplifting, this captivating memoir is a testament to one woman's determination to find the keys to connection.
A revealing memoir of a family and a "wrenching journey into deafness from the standpoint of a mother, a wife, a daughter, a philosopher, and a Jew" (Ilan Stavans, author of On Borrowed Words: A Memoir of Language).

When her daughters were born deaf, Jennifer Rosner was stunned. Then she discovered a hidden history of deafness in her family, going back generations to the Jewish enclaves of Eastern Europe. Traveling back in time in her mind, she imagined her silent relatives, who showed surprising creativity in dealing with a world that preferred to ignore them.

Here, in a "gentle meditation on sound and silence, love and family" Rosner shares her journey into the modern world of deafness, and the controversial decisions she and her husband made about hearing aids, cochlear implants and sign language (Publishers Weekly).

Punctuated by memories of being unheard, Rosner's imaginative odyssey of dealing with her daughters' deafness is at its heart a story of whether she—a mother with perfect hearing—can ever truly hear her children.
From a renowned media critic to a man with sudden and full hearing loss, Noel Holston ran the gauntlet of diagnoses, health insurance, and cochlear implant surgery.
On a spring night in 2010, Noel Holston, a journalist, songwriter, and storyteller, went to bed with reasonably intact hearing. By dawn, it was gone, thus beginning a long process of hearing-restoration that included misdiagnoses, an obstinate health-insurance bureaucracy, failed cochlear-implant surgery, and a second surgery that finally worked. He negotiated the gauntlet with a wry sense of humor and the aid of his supportive wife, Marty. Life After Deaf details his experience with warmth, understanding, and candor. It's the story not only of his way back to the world of the hearing, but of a great marriage that weathered serious testing. Their determination and resilience serve as a source of inspiration for all.
Life After Deaf is not just for the more than forty million people in the United States alone who cope with some form of hearing loss, but is also for their wide circles of friends, family, caregivers, and audiologists. This highly readable book will be an invaluable guide and source of hope for the large number of baby boomers now handling hearing loss.
In 1959, the year Terry Galloway turned nine, the voices of everyone she loved began to disappear. No one yet knew that an experimental antibiotic given to her mother had wreaked havoc on her fetal nervous system, eventually causing her to go deaf. As a self-proclaimed "child freak," she acted out her fury with her boxy hearing aids and Coke-bottle glasses by faking her own drowning at a camp for crippled children. Ever since that first real-life performance, Galloway has used theater, whether onstage or off, to defy and transcend her reality. With disarming candor, she writes about her mental breakdowns, her queer identity, and living in a silent, quirky world populated by unforgettable characters. What could have been a bitter litany of complaint is instead an unexpectedly hilarious and affecting take on life.
Every year, the number of deaf or hard of hearing people increases. The World Health Organization estimates there are 350 million people on the planet with hearing loss. You probably know someone with less than perfect hearing, and are sometimes confused about his/her behavior. Have you ever wanted an insider's view of what it's like to be functionally deaf or hard of hearing? Wonder no more – "My Hard of Hearing Life: Stories From Behind the Hearing Aids" is a book of short stories that pulls back the curtain of silence, and shows what's going on in the mind of a person with hearing loss. Most of the stories use humor to educate and inform. By the time you finish reading this book, you'll have a good understanding of what it's like to have a hearing loss. Deaf, hard of hearing, or hearing impaired? No matter the label, if you have a hearing loss, you'll be able to identify with the stories in this book. If your friends and family don't "get" your deafness, encourage them to read this book. It will open their eyes, and they will understand that having a hearing loss is not only about asking people to repeat themselves, but is actually an entirely different way of experiencing the world. "My Hard of Hearing Life" unveils the secret thoughts of a hard of hearing person as she interacts with the hearing world. The misunderstandings that sometimes result between a person with hearing loss, and a "normal" can be either hilarious or sobering. Be assured, there is a reason for the "odd" behavior of your hard of hearing friend. Scroll up, click the buy button, and read this book. You'll never look at a person wearing hearing aids in the same way.
Trailblazing Seattle Seahawks fullback Derrick Coleman Jr.—the first deaf athlete to play offense in the NFL—tells his inspirational journey of persevering through every obstacle, remaining dedicated to the hard work and a no-excuses attitude that ultimately earned him a Super Bowl victory. Great for readers of all ages.
Even at a young age, if anyone told Derrick Coleman what he couldn't do, he'd just reply, "Watch me." Diagnosed as hearing-impaired at age three, he faced a potentially limited future, but neither he nor his family were going to let that happen. Now Derrick shares the story of his remarkable journey toward NFL stardom, of the friends and colleagues who cheered him on when skeptics tried to chip away at his confidence, and of how every challenge he faced only strengthened his resolve.
At the heart of his story is his unconventional family, whose one constant was always love. When Derrick was misunderstood as "difficult," or bullied and laughed at by schoolmates, he removed his hearing aids and listened instead to his mother's advice: Never let anyone else tell you how far you can go.
Playing football became an outlet for Derrick's restless energy and a way of proving he could forge his own path. As a senior at UCLA, he became a standout, an award-winning player who led his team with eleven touchdowns and demonstrated to the world what his heart had known all along: He had what it took to be a champion.
No Excuses is more than just Derrick Coleman's story as a sports legend, inspirational role model, and icon. It's a motivating and unique testament to the human spirit, to the potential inside everyone who has ever faced difficult obstacles. It's about aiming high in life, giving it your all, and never ever settling for excuses.
The inspiring and moving memoir of a young woman who is slowly losing her sight and hearing yet continues to live life to its fullest potential. Even a darkening world can be brilliantly lit from within.
Born with a rare genetic mutation called Usher syndrome type III, Rebecca Alexander has been simultaneously losing both her sight and hearing since she was a child, and she was told that she would likely be completely blind and deaf by thirty. Then, at eighteen, a fall from a window left her athletic body completely shattered.

None of us know what we would do in the face of such devastation. What Rebecca did was rise to every challenge she faced. She was losing her vision and hearing and her body was broken, but she refused to lose her drive, her zest for life, or—maybe most important—her sense of humor. Now, at thirty-five, with only a sliver of sight and significantly deteriorated hearing, she is a psychotherapist with two masters' degrees from Columbia University and an athlete who teaches spin classes and regularly competes in extreme endurance races. She greets every day as if it were a gift, with boundless energy, innate curiosity, and a strength of spirit that have led her to places we can't imagine.

In Not Fade Away, Rebecca tells her extraordinary story, by turns harrowing, funny, and inspiring. She meditates on what she's lost—from the sound of a whisper to seeing a sky full of stars, and what she's found in return—an exquisite sense of intimacy with those she is closest to, a love of silence, a profound gratitude for everything she still has, and a joy in simple pleasures that most of us forget to notice.

Not Fade Away is both a memoir of the senses and a unique look at the obstacles we all face—physical, psychological, and philosophical—exploring the extraordinary powers of memory, love, and perseverance. It is a gripping story, an offering of hope and motivation, and an exquisite reminder to live each day to its fullest.
Audiologists agree that we're experiencing a national epidemic of hearing loss. At present, 48 million Americans―17 percent of the population―suffer some degree of loss. More than half are under the age of fifty-five. In cases like Katherine Bouton's, who experienced sudden hearing loss at the age of thirty, the cause is unknown.
In this deftly written and deeply felt look at a widespread and widely misunderstood phenomenon, Bouton recounts her own journey into deafness―and her return to the hearing world through the miracles of technology. She speaks with doctors, audiologists, neurobiologists, and others searching for causes and a cure, as well as those who have experienced hearing loss, weaving their stories with her own. Shouting Won't Help is an engaging and informative account of what it's like to live with an invisible disability―a must-read not only for those with hearing loss, who will recognize their stories in Bouton's own, but for their families, friends, employers, and caregivers.
It is 1968. Lynnie, a young white woman with a developmental disability, and Homan, an African American deaf man, are locked away in an institution,the School for the Incurable and Feebleminded, and have been left to languish, forgotten. Deeply in love, they escape, and find refuge in the farmhouse of Martha, a retired schoolteacher and widow. But the couple is not alone-Lynnie has just given birth to a baby girl. When the authorities catch up to them that same night, Homan escapes into the darkness, and Lynnie is caught. But before she is forced back into the institution, she whispers two words to Martha: "Hide her." And so begins the 40-year epic journey of Lynnie, Homan, Martha, and baby Julia-lives divided by seemingly insurmountable obstacles, yet drawn together by a secret pact and extraordinary love.
Mary Herring Wright's memoir adds an important dimension to the current literature in that it is a story by and about an African American deaf child. The author recounts her experiences growing up as a deaf person in Iron Mine, North Carolina, from the 1920s through the 1940s. Her story is unique and historically significant because it provides valuable descriptive information about the faculty and staff of the North Carolina school for Black deaf and blind students from the perspective of a student as well as a student teacher. In addition, this engrossing narrative contains details about the curriculum, which included a week-long Black History celebration where students learned about important Blacks such as Madame Walker, Paul Laurence Dunbar, and George Washington Carver. It also describes the physical facilities as well as the changes in those facilities over the years. In addition, Sounds Like Home occurs over a period of time that covers two major events in American history, the Depression and World War II.
Wright's account is one of enduring faith, perseverance, and optimism. Her keen observations will serve as a source of inspiration for others who are challenged in their own ways by life's obstacles.
This portrait of New York's Lexington School for the Deaf is not just a work of journalism. It is also a memoir, since Leah Hager Cohen grew up on the school's campus and her father is its superintendent. As a hearing person raised among the deaf, Cohen appreciates both the intimate textures of that silent world and the gulf that separates it from our own.
Our sense of hearing makes it easy to connect with the world and the people around us. The human system for processing sound is a biological marvel, an intricate assembly of delicate membranes, bones, receptor cells, and neurons. Yet many people take their ears for granted, abusing them with loud restaurants, rock concerts, and Q-tips. And then, eventually, most of us start to go deaf.
Millions of Americans suffer from hearing loss. Faced with the cost and stigma of hearing aids, the natural human tendency is to do nothing and hope for the best, usually while pretending that nothing is wrong. In Volume Control, David Owen argues this inaction comes with a huge social cost. He demystifies the science of hearing while encouraging readers to get the treatment they need for hearing loss and protect the hearing they still have.
Hearing aids are rapidly improving and becoming more versatile. Inexpensive high-tech substitutes are increasingly available, making it possible for more of us to boost our weakening ears without bankrupting ourselves. Relatively soon, physicians may be able to reverse losses that have always been considered irreversible. Even the insistent buzz of tinnitus may soon yield to relatively simple treatments and techniques. With wit and clarity, Owen explores the incredible possibilities of technologically assisted hearing. And he proves that ears, whether they're working or not, are endlessly interesting.
If you think hearing loss is just a condition of old age-think again.
In The Way I Hear It, Gael Hannan explodes one myth after another in a witty and insightful journey into life with hearing loss at every age. Blending personal stories with practical strategies, Gael shines a light onto a world of communication challenges: a marriage proposal without hearing aids in, pillow talk and other relationships, raising a child, going to the movies, dining out, ordering at the drive-thru, in the classroom, on the job and hearing technology.
Part memoir, part survival guide, The Way I Hear It offers tips for effective communication, poetic reflections, and heart-warming stories from people she has met in her workshops and at conferences throughout North America. Gael's humorous stories are backed by hearing loss research, and she offers advice on how to bridge the gap between consumer and professional in order to get the best possible hearing health care.
The Way I Hear It is a book for people with hearing loss-but also for their families, friends and the professionals who serve them. Gael Hannan shares not only the daily frustrations, but also a strong message of hope and optimism for living successfully with hearing loss….
Some resources that helped me create this list
Ear Community- Books about Microtia & Atresia
Wikipedia List of Childrens Books Featuring Deaf Characters
@aslanddeafstudies on Instagram
Save this post to Pinterest