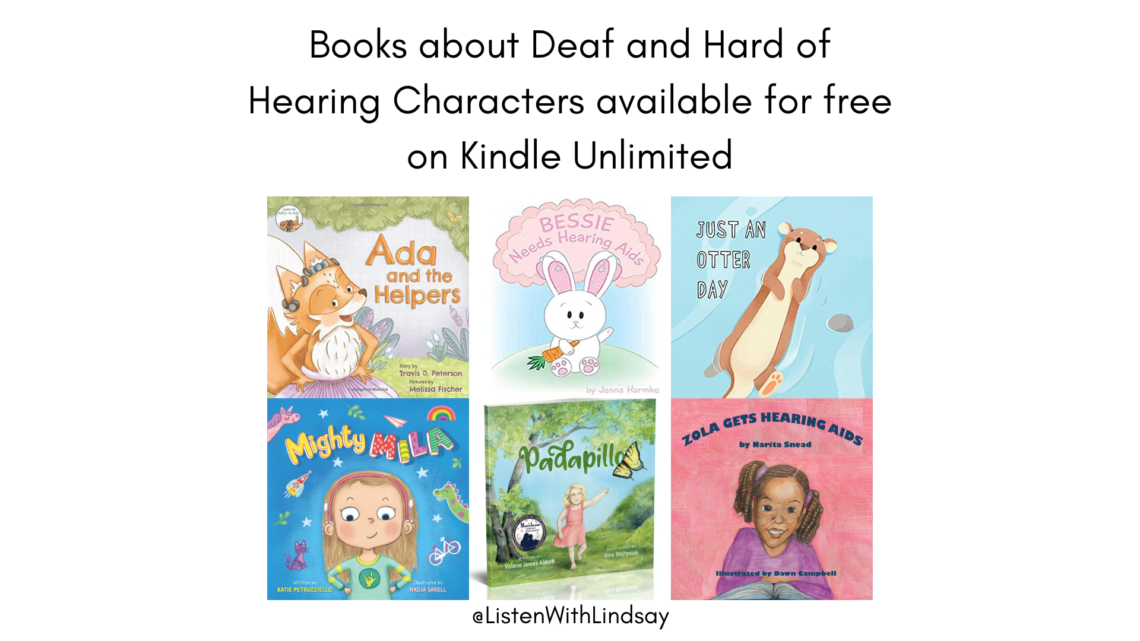 6 Books with Deaf and Hard of Hearing Characters Available for Free on Kindle Unlimited
Kindle Unlimited is a paid subscription where that gives you access to certain e-books for free. These books can be read on your Kindle, on an iPad or on a smart phone on the Kindle App.
You can always use the Libby app and your own local library card to get free e-books as well!
Disclaimer: Some of these links are affiliate links which means I make a small commission if you click on the link and then make the purchase. This does not cost you any extra, but does help me with the costs of running Listen With Lindsay.
Here's a list of 6 books that are available for free (with a Kindle Unlimited subscription).
Kindle Unlimited Membership Plans
Reading Age: Baby-6
Length: 40 pages
Author: Parent of DHH child
Description: "Be bold! Be brave! Let you be you… and let's help others, too!"
That's Ada's motto.
Ada is a dancing, deaf fox with cochlear implants who loves to help others. On her way to dance in a talent show one day, she meets three other creatures who are each facing a physical challenge or disability of their own. She decides to help each of her new friends to see past their challenges and discover their natural, God-given strengths. But can they help her in return? Ada's a bit nervous about the talent show!
Will she be able to hear the music clearly?
Will everyone laugh at her?
Pick up a copy of Ada and the Helpers today and follow Ada and her new friends on an exciting new adventure that inspires friendship, helping others, inclusion, and finding your strengths. Plus, your child can learn the ASL alphabet at the same time! The rhyming nature of the story is welcoming for hearing kids, but is especially helpful for young children who are hard-of-hearing.
As an adult, you'll love the surprise ending that brings all the nostalgic feels for your inner 80's child!
This children's book comes with some special features, including:
One word spelled out using the American Sign Language alphabet on each spread of the story (14 in all) in diverse skin tones so that you can help your child practice learning the ASL alphabet and begin fingerspelling.
An ASL alphabet chart in the back of the book. By the way, the hardcover edition has a double-sided dust jacket that also serves as an American sign language alphabet poster, perfect for hanging in your child's bedroom or in the classroom!
The book also introduces three of the ling sounds used in the Ling Six Sound Test, which is used to help audiologists, special educators or teachers of the deaf, and parents or hard-of-hearing children assess whether or not the child can hear and recognize the full range of vocal sound. By helping your child associate these phonics with the characters in the book, it becomes easier for you to practice these sounds with them.
Masterfully illustrated by fine artist Melissa Fischer, Ada and the Helpers is a beautiful book that your child will want to read over and over again. Whether they are deaf or hard-of-hearing and use hearing aids or cochlear implants to assist them, or you simply want to introduce the concept of sign language to your hearing children, Ada and her friends will be instant favorites in your household or classroom!
Bessie Needs Hearing Aids
Length: 27 pages
Author: Hard of hearing teen
Description: Did you child just get hearing aids? Is your child feeling self-conscience about their hearing loss?
"Bessie Needs Hearing Aids" is a children's book that will help children with hearing loss understand the process, and that they are not alone. The author went through the through this process of getting hearing aids and bases the book on this, so it will resonate with children just learning of hearing issues, or coping with wearing hearing aids. The book received numerous accolades so it was decided to make it available to all, in order to possibly help other children with hearing loss. When a child goes through the process of getting hearing aids, it is scary for them and difficult for a parent to explain. This is a story of Bessie the bunny, who was so excited to start school only to have the kids get frustrated when she was not hearing them properly. Bessie visits the audiologist and learns about hearing aids and how they can help with her hearing loss. Illustrated by Toby Mikle, who has received many accolades himself in children's book illustrating.
Instagram flip-thru of Just an Otter Day
Length: 24 pages
Author: DHH Teacher
Description: Just An Otter Day is a charmingly-illustrated book about a day in the life of Ollie the Otter. Ollie is an otter with a hearing loss. Join him and his family along their hearing loss journey as Ollie receives a cochlear implant and learns to listen, speak, and much more!
Book flip-thru of Mighty Mila on Instagram
Reading Age: 4-7
Length: 35 pages
Author: Parent of DHH child
Description: Mila may be a kid, but she can act pretty grown up…at least that's what she thinks. The trouble is, Mila's parents still treat her like she's little, so she's decided to prove once and for all that she can do things "all on her own!" But when it turns out that being a big kid isn't as easy as she thought, will Mila admit defeat, or will she find a way to prove just how big and mighty she really is?

Readers of all ages will love Mila's spitfire personality and imaginative approach to overcoming obstacles, and will cheer her on as she uses her creativity, her willpower, and even her new cochlear implant hearing devices to face down challenges.

✓ Laugh-out-loud fun: Simultaneously precocious and charming, Mila's antics will leave kids cracking up. After all, who hasn't wanted to tie their shoes with tape or help themselves to the perfect breakfast of pizza and cupcakes?

✓ Representation & empowerment: A book that provides much needed representation for deaf/hard of hearing children through a fun story portraying a deaf main character as a "regular kid", where her hearing loss is NOT the focus of the story. Also enables typical hearing children to see that deaf/hard of hearing children think, feel and act just the same way as they do!

✓ Social-emotional learning (SEL): The perfect inclusive book to teach children about acceptance, empathy, and respect for all types of people through an inspiring, engaging story.

✓ Problem solving & perseverance: A great way to encourage creative thinking and show children that they can achieve anything they set their mind and hearts to—even if that sometimes means asking for help from others.

✓ Fun, educational supplemental activities: "I-spy" style learning activities at the end of the story further explore the book's bright, whimsical illustrations while also building vocabulary and listening skills! 34 additional activities are also available for free download at mightymila.com. An excellent resource for educators, therapists and parents!
Reading Age: 5+ years
Length: 40 pages
Author: Parent of DHH child
Book Flip-Thru of Padapillo on Instagram
Description: Little Bridget is acting strangely and no one seems to notice – except her older sister. She notices everything. When the rest of her family finally realize that Bridget has been ignoring the world around her and inventing weird words, it leads to a startling diagnosis no one saw coming.
In this touching story, narrated by the attentive, yet incredulous, older sister, we are led through a mystery and into the real-life emotional process family members often experience when a young child is unexpectedly diagnosed with hearing loss.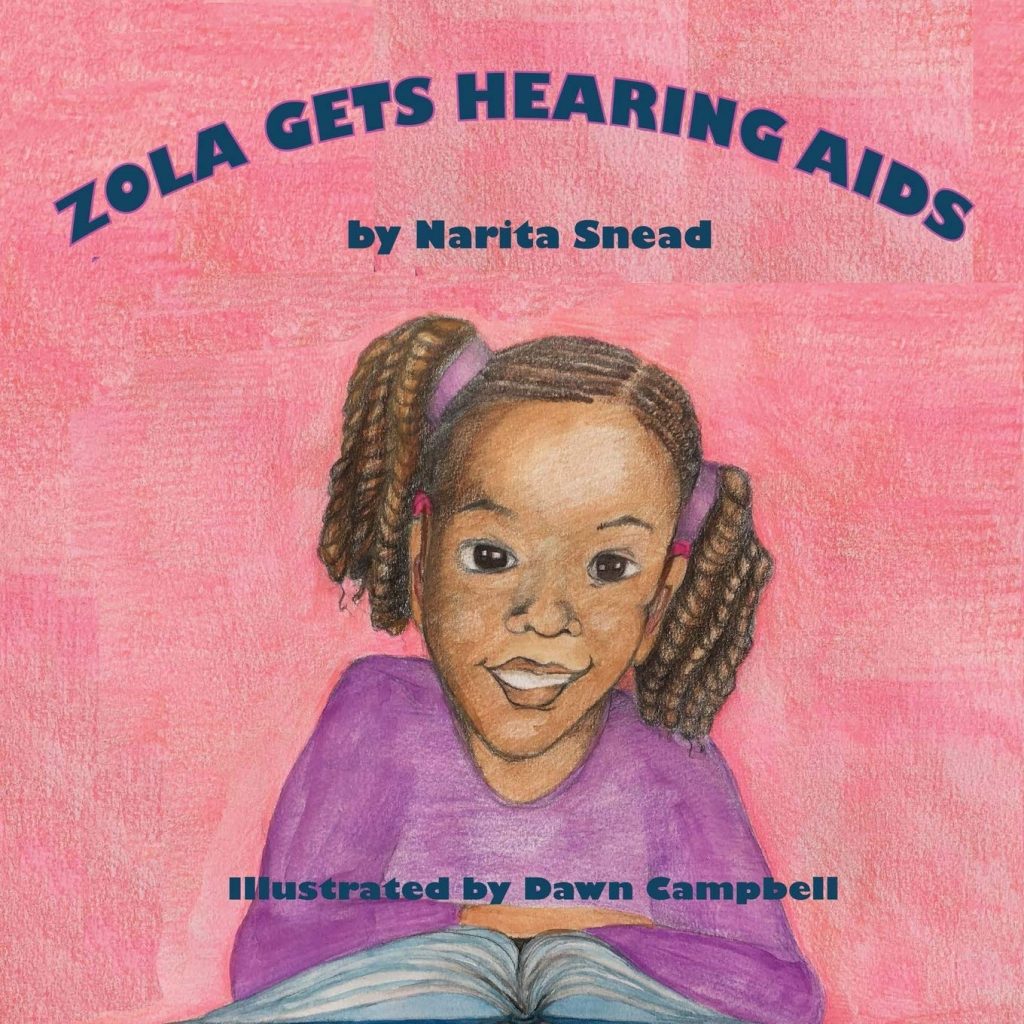 Reading Age: 5-12
Length: 44 pages
Author: Parent of DHH child
Description: Zola has a problem. She does not hear as well as other kids. Today is the day she goes to the doctor, a special doctor, to check her hearing. Zola is worried because she has heard all about those kids who do not hear well. Her greatest fear is having to wear a hearing aid. She is worried about how her friends will react if she has to get a hearing aid and wear it to school. Will they tease her? Will she be bullied or will they accept her and still be her friend? Not sure about what the day will bring, with great sadness and frustration, she pushes back her blanket and gets out of the bed to go to the doctor's office.
If you're looking for even more, I have an extensive list about books by, for and about deaf and hard of hearing people.