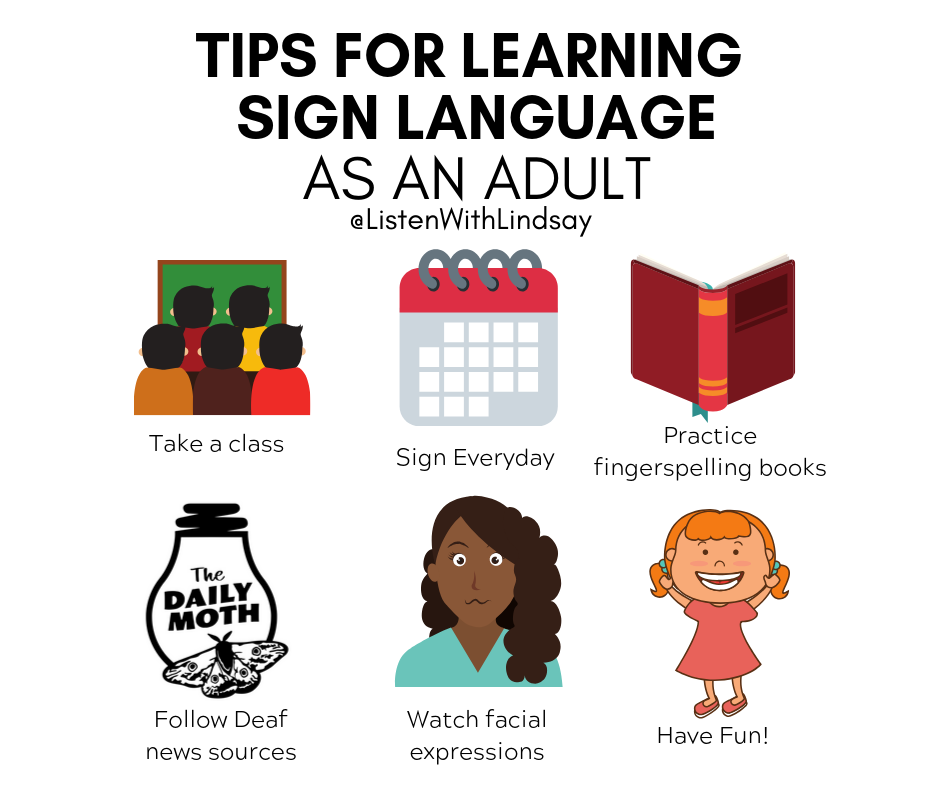 How to Learn Sign Language as an Adult and ASL Resources for Parents of Children with Hearing Loss
Learning a new language as an adult is challenging!! My good friend Amanda Beneke was able to learn American Sign Language as an adult so I asked her for some tips. Here's what she said.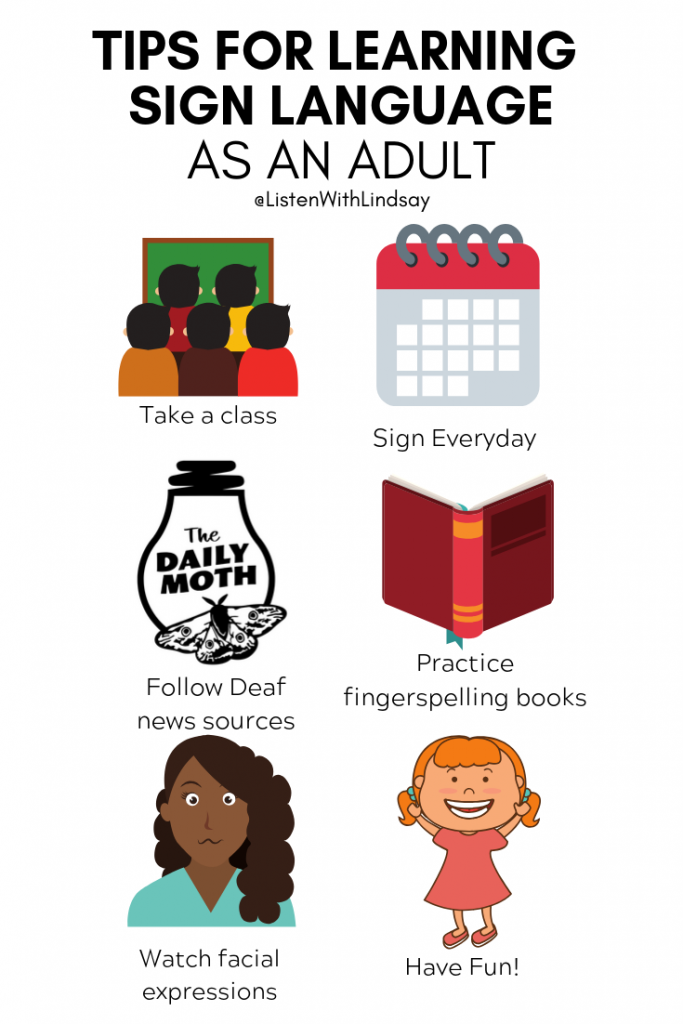 1. Take an ASL course or use online resources to learn new signs.
Some favorite online options include: Lifeprint ASL, Signing Savvy, HandSpeak, ASL Nook, etc. There are also many apps you can use such as The ASL App.
2. Sign everyday!
The more involved you become, the more successful you will be. Join a signing Meetup to practice more.
3. Fingerspelling is hard, so keep practicing! Two tips:
Grab a book and finger spell every single word on a page. One ASL teacher taught me this: When spelling a word, think in syllables instead of letters. It works! Example: spell "fan-tas-tic" not F-A-N-T-A-S-T-I-C)
4. Follow Deaf news sources on social media to practice your receptive language skills.
Some options include the Daily Moth, DPAN.tv, @MELMIRA, etc.
5. Facial expressions and body movements/placement are just as important as the words you are signing.
Watch for these details as you learn. If you have the opportunity, watch ASL interpreters sign. You can learn new signs and proper ways to interpret a message by comparing the signed vs. spoken message. Remember that ASL is a conceptual language with its own grammatical rules and structures. It is not a word-for-word translation from a spoken language.
6. Have fun! The more you enjoy learning a new language, the easier it becomes.
List of ASL Resources
DHH Family Resources
These are resources that can help families of children with hearing loss.
Online ASL Dictionaries
Online ASL Classes
Facebook Pages & Groups
YouTube
In Person ASL Meetups
ASL News Sources
More about Amanda Beneke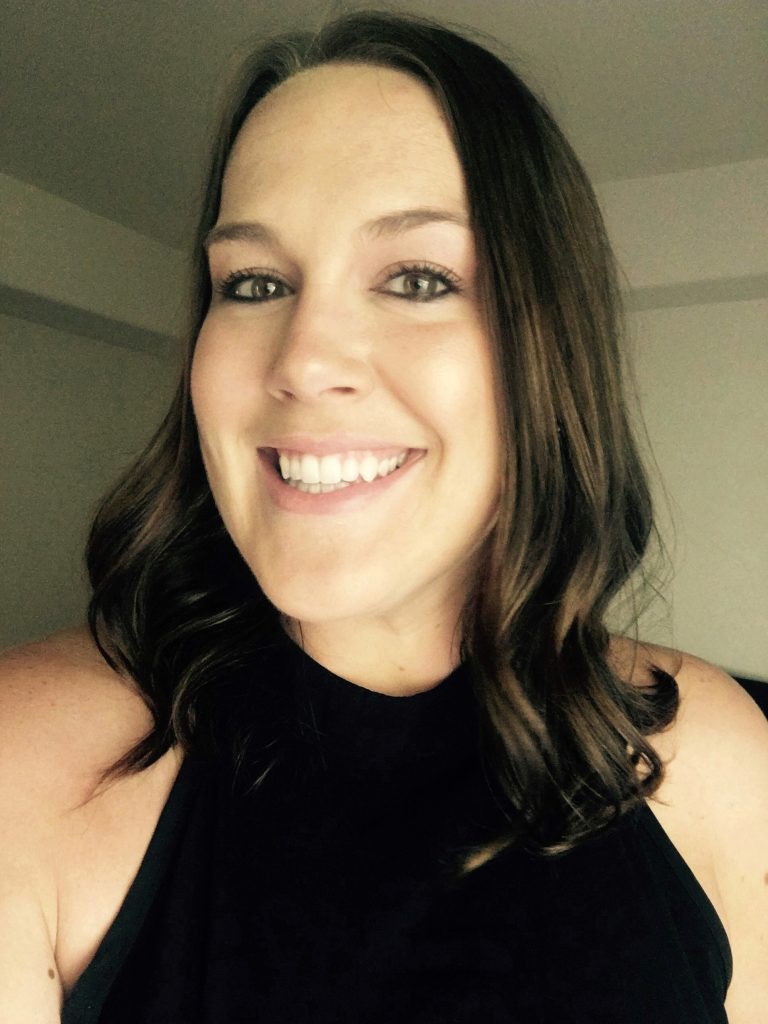 Amanda Beneke is a Speech-Language Pathologist and a certified Listening and Spoken Language Specialist/Auditory Verbal Therapist. She graduated from the University of Arizona with her master's degree in Speech, Language, and Hearing Sciences in 2009. Since that time, she has worked in different settings across the United States to provide evaluations and speech-language therapy/listening and spoken language services for children of all ages. She utilizes the principles of Auditory Verbal Therapy (AVT) to teach parents and caregivers how to be primary facilitators of their child's listening and spoken language skills. Amanda has worked with children with cochlear implants (CI), hearing aids, and auditory brainstem implants (ABI). In addition, Amanda communicates with families in American Sign Language and Spanish to support the language of the home. She has experience supervising and training graduate students during practicum placements. Amanda has volunteered with a nonprofit organization called CLASP International since 2011 to develop the field of speech-language pathology in Zambia, Africa. Amanda currently works with the Early Learning Program at Arizona School for the Deaf and the Blind. Previously she worked at John Tracy Center, Maryland School for the Deaf, and the University of Texas at Dallas Callier Center for Communication Disorders.
Contact Amanda Beneke – If you want to get in touch with Amanda you can email her at amandabeneke@yahoo.com or DM her on instagram @arbeneke.