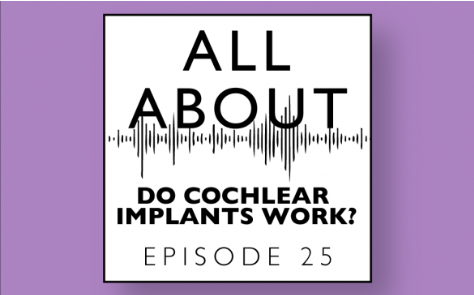 Do Cochlear Implants Work? All About Audiology Podcast Episode
The amazing Dr. Lilach Saperstein invited me to be on her podcast "All About Audiology Podcast" to talk about an important topic- do cochlear implants work? Dr. Saperstein is transcribed the entire episode on allaboutaudiology.com -yay accessibility!
Disclaimer: All information is solely my own thoughts and opinions. I do not speak on behalf of my employers, educational institutions, or professional organizations past, present, or future. The information provided is intended for general knowledge and is not a substitute for professional audiological and/or medical advice. Audiological care can be very individualized so it's important to discuss any problems, concerns, or questions you have with your provider.
Download the episode here:
Itunes: All About Audiology Podcast Do Cochlear Implants Work? Episode 25 with Dr. Lindsay Cockburn
Stream or download the episode on AllAboutAudiology.com
Preview the Episode:
Topics Discussed
What is a cochlear implant and who is it for?
Do cochlear implants really work? Who do they work better for? What does it take to get a cochlear implant to work?
Sign Language/ASL and Cochlear Implants
Auditory Verbal Therapy/Listening and Spoken Language Specialists (AVT certified LSLS)
How speech therapy has changed over the years and now kids love it
Device failures and re-implantation
Hybrid Cochlear Implants
and much much more!
If you or your child is getting a Cochlear Implant
Be sure to check out Dr. Saperstein's post on Cochlear Implants: Tips for Surgery and Activation.
Be sure to subscribe to the All About Audiology podcast and follow us on Instagram for more
@AllAboutAudiologyPodcast on Instagram