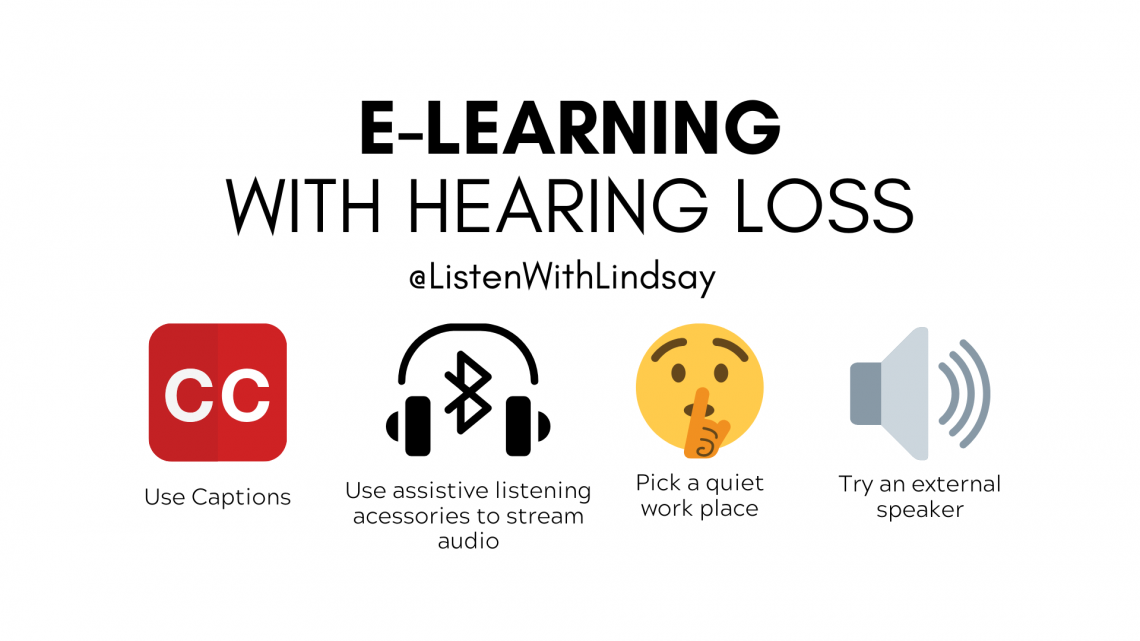 Resources for Parents of Kids With Hearing Loss Learning Online
Many schools have moved to online platforms and among your worries might be, will my child be able to hear and access the information as well as their classmates? Here's some resources to help get you started.
Pick a quiet place
We always want to start with trying to modify the environment. Try to pick the quietest room for your child to do their online class work in. This means away from sinks running, dishwashers, laundry machines, parents working from home on conference calls, TVs, music, etc.
Captioning
Captioning is a complicated subject due to the many mediums that are being used right now, but for many students captions are vital for accessing the full message. Check out this post on Captioning Options for Videoconferencing and Learning Management Strategies.
Free Live Captioning
Ideally your child's general education teacher is working with their DHH itinerant in order to make their content captioned. For the occasional video (live or recorded) that does not have captions available Web Captioner runs on a computer. All you need is a microphone and it will give real-time captions.
Tips to Share With Teachers
Lots of teachers are new to teaching online and may need some guidance. These #DeafEdTips: E-Learning Accessibility are great to share with them!
Deaf and hard of hearing teachers can also use this Teacher Contact COVID-19 template to communicate with the classroom teacher.
Deaf and Hard of Hearing Itinerant Teachers
Your Deaf and Hard of Hearing Itinerant teachers are an EXCELLENT resource to tap into at this time. Make sure you have their email address and contact them for troubleshooting help or to come up with strategies to help in your child's specific situation.
Using an Assistive Listening Device to Connect to Audio Sources (computer, cell phones, tablets, Chromebooks, etc)
Using an assistive listening device to connect to an audio source (computer, laptop, tablet, Chromebook, etc.) is the best option that typically gives the highest quality sound. The only problem is that not everyone has these. You can contact your school audiologist to see if you can possibly pick up the equipment to use at home. There's lots of ways to connect assistive listening devices so you can stream to your hearing aids, cochlear implants, or BAHAs.
Check out this amazing guide that includes pictures and step by step directions for the most commonly used assistive listening devices- Using Personal Hearing devices to Listen to Computers and Tablets.
How can a parent listen in if the child is using an assistive listening device?
Before I get into the connectivity options- if you're using Zoom, for example, the parent can call in on a second device like their phone, tablet, or computer and listen to the sound for that device.
You can also use a Y-Splitter (one male end and 2 ports) which you can get on Amazon. You plug the cord into the headphone jack, plug the assistive device into one port and a set of headphones into the second port to listen along.
Advanced Bionics
The Advanced Bionics Naida cochlear implant processor can connect (with the correct receivers) to Phonak Roger transmitters which can be connected via audio cable to computers/tablets/etc. Read about The Roger System for the Naida CI Sound Processor. It can also connect to the Phonak ComPilot which connects to computers/tablets with a 3.5mm audio cable.
The Advanced Bionics Naida CI Q90 processor also has an accessory called Naida CI Connect which helps connect via bluetooth to devices like phones and tablets. Here's more information on compatibility and instructions on how to connect.
Cochlear
For a very detailed brochure on compatibility and connectivity for Cochlear devices including N5-N7, Kanso, and BAHA 5 check out Cochlear Wireless Technology in the Classroom.
Cochlear MiniMic 2+
The Cochlear Mini Mic 2+ can connect to the Cochlear BAHA, the Cochlear Nucleus 7 and the Cochlear Kanso cochlear implants. It can be plugged into a computer with a 3.5 mm male to male audio cable and streamed wirelessly to these devices.
Med-El
You can use the Med-El AudioLink accessory to connect via bluetooth or with a 3.5mm audio cable.
The Med-El ADHEAR can connect via the ADHEAR audio cable.
Oticon
Oticon EduMic
The Oticon EduMic can connect to the Oticon Xceed Play hearing aids, Oticon Opn Play hearing aids, and Oticon Medical Ponto 4 BAHA. It can connect to computers or tablets with a 3.5mm audio jack. Here's some videos on how to use the Oticon EduMic.
Phonak
The Phonak Roger technology connects not only to Phonak hearing aids, but to most cochlear implants and BAHAs with the correct receivers too. This "Listening to Electronic Devices with Hearing Technologies" has great photos and step by step directions for connecting Phonak Roger devices and Phonak Marvel hearing aids with bluetooth.
Phonak Roger Clip-On Mic
The Phonak Roger Clip-On Mic can be connected to Phonak hearing aids using the mini-USB port or the docking station. Here's a video on how to connect the Roger Clip-On Mic to media.
Phonak ComPilot II
The Phonak ComPilot II can connect to a phone or tablet via bluetooth or can be connected to a computer without bluetooth. Here's the instructions on how to connect. See if your child's Phonak hearing aids are compatible here [Models include Phonak Sky B, Sky V, Naida B, Naida V, etc.]
Phonak Roger Multimedia Hub
The Phonak Roger Multimedia Hub can be used to connect to media devices via 3mm audio cable. Here's the Roger Multimedia Hub Quick setup guide.
Phonak Roger Pen
The Phonak Roger Pen works with Phonak hearing aids. You can use it to connect via blue tooth or connect to a computer using the 3mm audio cable. Check out these videos to find out how to connect. Here's a reference sheet on how to use the Phonak Roger Pen, the Roger Pen quick set-up guide and the Roger Pen user guide.
Phonak Roger Select
The Phonak Roger Select can connect to Phonak hearing aids. It can also connect to audio devices with a 3mm audio jack. Here's a video on how-to connect a Phonak Roger Select to a computer or audio device.
Phonak Roger Touchscreen Mic
The Phonak Roger Touchscreen Mic can connect to Phonak hearing aids as well as most other hearing aids and cochlear implants as long as they are fitted with a compatible receiver. Here's the Phonak Roger Touchscreen Mic Quick setup guide.
To connect the Roger Touchscreen to the ChromeBook use the cable that comes with it that is black on one end and split into pink/green on the other. Connect the black plug to the computer and the 3.5mm audio cable into the green plug.
Using Headphones
Depending on your child's hearing loss, they may be able to use large over the ear style headphones over their hearing aids and/or CIs to hear their classes. This is not ideal as it does not give great sound quality.
Using Speakers
Connecting a tablet, phone, or computer to either a wired or bluetooth external speaker can make the audio louder and more clear for your child. The computer or tablet speakers alone might not be enough. This may be challenging if you're trying to work from home while your child is learning online!
Google Classroom
Here's a Parent's Guide to Google Classroom and an accompanying video.
I hope this guide helps you out during this challenging time!
Save this post to Pinterest!
Follow @ListenWithLindsay on Instagram for more tips
A Parent's Guide to Distance Learning and Hearing Loss
Check out my collaboration post with HearingLikeMe for even more tips and information.