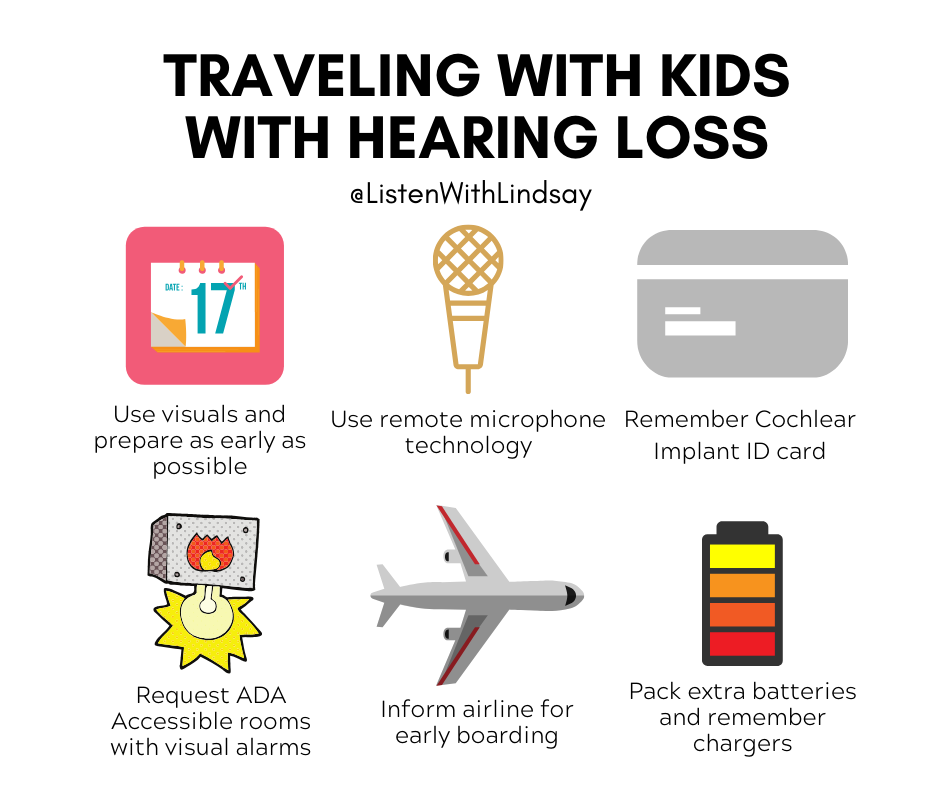 Traveling With Kids With Hearing Loss
Are you traveling for the holidays? Here's some tips!
Start as early as possible letting your child know with a visual calendar countdown, visuals of where you're going and how you're getting there, who you'll see once you arrive, how long you'll stay, and what you'll do there. Knowledge reduces anxiety.
Remote Microphone Technology is GREAT for travel- long car rides, noisy airports, group meals, family parties- all of these are places where remote mic technology can be a huge help!
Cochlear implant cards come with IDs for showing to airport security. Take a photo of the card and "Favorite" it on your phone for a back-up so you'll always have it. Consider medical ID jewelry too. It can have parent cell phone #, "cochlear implant No MRI" and any other important medical info.
Hotels are required to have ADA accessible rooms- but you'll want to put in this request ASAP because there aren't many. Consider requesting one with visual smoke/fire alarms.
Notify the airline so you can board first. This will alert the crew that your child has hearing loss which is also good for an emergency. This will give you time to make sure you have all of the accessory cables, remote mic, extra batteries, etc. handy for the flight.
Pack extra batteries and remember chargers. Consider bringing your dry-aid kit for a safe place to store devices at night. If you have a lot to charge sometimes I travel with a surge protector for more plugs 🤓 .