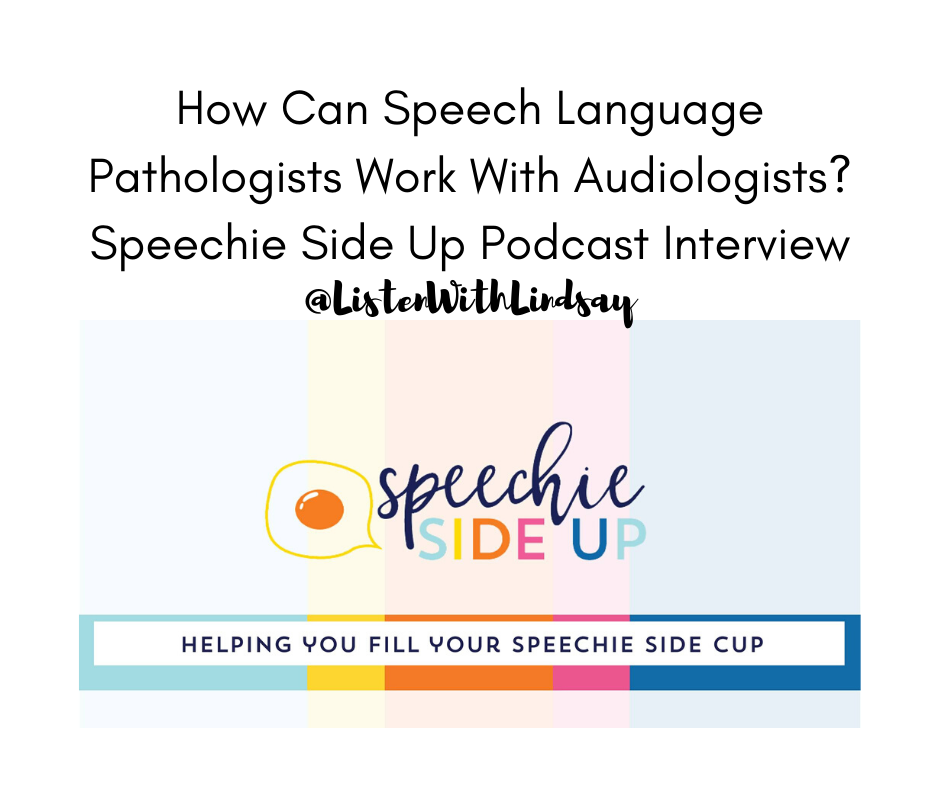 How Can Speech Language Pathologists Work With Audiologists – Speechie Side Up Podcast Interview
I was on a podcast! With the amazing Venita Litvack of Speechie Side Up. We talk about how hearing loss affects speech and how and when to refer a child for a hearing test.
Disclaimer: All information is solely my own thoughts and opinions. I do not speak on behalf of my employers, educational institutions, or professional organizations past, present, or future. The information provided is intended for general knowledge and is not a substitute for professional audiological and/or medical advice. Audiological care can be very individualized so it's important to discuss any problems, concerns, or questions you have with your provider.
Here's the description of the episode:
This week you get to hear from pediatric audiologist Lindsay Cockburn.
In this episode, Lindsay shares about her background and how and why audiologists and SLPs should collaborate. When you hear her ideas, you'll see what a no-brainer it is that we work together. Together we can take our hard-of-hearing patients farther. Lindsay explains how hearing loss affects speech and gives us clues on when SLPs should recommend hearing tests for kids.
Lindsay and I cover a lot of ground in the episode, including things SLPs need to know when treating DHH kids. Join us!
Lindsay's blog, Listen With Lindsay, aims to connect with parents of children with hearing loss and professionals and create an online community to support and encourage one another. She shares information in a relatable way that feels like it is from a friend or a peer. Lindsay is my very first audiologist guest on the show!
In our chat today, we learn about Lindsay's background, and she shares some fabulous tips for how audiologists and SLPs can collaborate for better progress and better outcomes for their patients. Lindsay also shares tips for involving parents (who should be the child's main therapist) in treatment and how SLPs can know when to refer a child for a hearing test.
Lindsay also makes a good case for using a microphone for your hard-of-hearing patients and gives suggestions for how to help your clients obtain these expensive devices. This episode is full of great ideas and helpful insights. Don't miss it!
Topics/Questions:
What are you tips for successful collaboration between audiologists and SLPs?
Please share how and when a child should be referred for a hearing test.
How does hearing loss affect speech?
What are 3 things SLPs need to keep in mind when it comes to hearing loss and treating DHH kids?
Game: Real Housewives Quiz?
You'll have to tune into the episode to find out her answers!
Download the episode here
iTunes: Speechie Side Up Podcast Episode 60: The One About Hearing Loss With Lindsay Cockburn
Spotify: Speechie Side Up Podcast Episode 60: The One About Hearing Loss With Lindsay Cockburn
Preview the episode:
Links
Connect with Lindsay on Instagram, Facebook, her Facebook Group, and Twitter
Resources